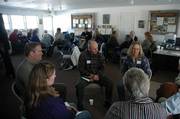 Hayden — Yampa Valley Regional Airport illustrates the growth occurring in and around Hayden, Town Manager Russ Martin said.
"Life up there has completely changed," Martin said. "It's no longer a shed with big airplanes coming in. It's an airport."
Change in Hayden was the focus of a forum Thursday at the Carpenter Ranch. The forum was hosted by Yampa Valley Partners, an organization that aims to improve communication between the numerous communities in the Yampa Valley. The forums take place several times throughout the year. Thursday's was attended by a diverse group of more than 30 government officials from both Routt and Moffat counties and others interested in regional issues in the Yampa Valley.
"We are talking to each other about the critical issues," said Yampa Valley Partners executive director Audrey Danner.
Those issues included agricultural and rural tourism, health care, workforce needs and affordable living.
The forum provided a rare opportunity for local leaders to get together, Steamboat City Council member Towny Anderson said.
"That is the value of Yampa Valley Partners," Anderson said. "It's about regional thinking and systematic change, and this is a place where we can do that."
Martin said 40 building permits were expected to come through Hayden in 2005, but only 25 were issued. But those 25 permits came from projects the town had not anticipated, and there are major projects and subdivisions in store.
"Hayden had a great opportunity in the last couple decades to remain the same," Martin said. "That's no longer the case. The demographics are drastically changing."
There are some obvious advantages for growth in Hayden, according to Hayden High School junior Jacci Gilbert.
"I'm always excited when houses are coming in because I know a mall is closer," said Gilbert, when asked what change in Hayden meant to her.
Gilbert was at the forum with classmate Courtney Vestal, a senior, who helped start the Youth Embracing Society, or Y.E.S.! Their idea is to get youth from the valley involved in the regional discussions as well, and they want to eliminate barriers between youth in the different towns.
"If youth don't help with the changes in the town, then the changes aren't going to fit the next generation," Vestal said.
Halfway through the forum, attendees formed small groups to discuss specific issues such as youth involvement and affordable housing.
Dace Kramer joined the group discussing regional affordable housing needs. Kramer works at Northwest Colorado Visiting Nurse Association as the Aging Well coordinator, and her focus is how to care for the aging population, but affordable housing is a component of that.
"You can't talk about a single subject anymore," said Yampa Valley Housing Authority Director Elizabeth Black. "You can't talk about the aging in our community without talking about affordable housing."
-To reach Matt Stensland, call 871-4210
or e-mail mstensland@steamboatpilot.com