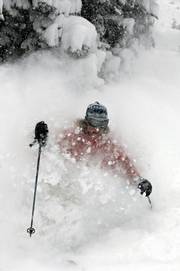 Steamboat Springs — Winter struck with a bang Tuesday as more than 16 inches of snow fell on the Steamboat Ski Area.
The storm turned skiing con-
ditions upside down overnight, from Monday's hard-packed crust to Tuesday's seemingly bottomless powder.
Although the limited early season base still left skiers, riders and their gear vulnerable to hidden rocks and other obstacles, the snowstorm prompted ski area officials to open expanded terrain Tuesday, including advanced trails such as Cyclone, Tornado and Triangle 3.
"We're definitely off to a great start," said Heidi Thomsen, a spokeswoman for Steamboat Ski Area. "It's always nice in November to be skiing in snow that hits your knees or higher."
By 12:30 p.m. Tuesday the ski area had reported 16 inches of new snow at mid-mountain and 14 inches at the summit. The snow continued to fall into Tuesday evening.
A winter storm warning re-
mained in effect for the city of Steamboat Springs until 6 a.m. this morning, according to the National Weather Service. The snow is expected to be heavier and continue longer into the day at higher elevations.
The National Weather Ser-
vice is forecasting a chance of snow throughout the week as high temperatures remain in the low to mid-20s.
The ski area will open 44 trails encompassing 458 acres for skiing and riding today. Seven lifts will access that terrain.