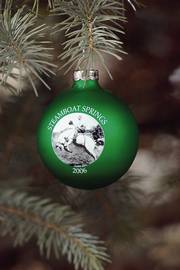 Steamboat Springs — The members of the Steamboat Springs Kiwanis Club continue their 25-year holiday tradition this week with the release of their annual collectible Christmas tree ornament.
Sales of the ornament support the Kiwanis' work with youths and senior citizens in the valley. Kiwanis offers scholarships to outstanding high school graduates and hosts events for seniors.
The ornament tradition began in 1982.
This year, an image of a cowboy atop a bucking horse is set against a green ornament. The ornament celebrates Routt County's Western traditions. The cowboy is unknown, but the horse is the great General Pershing, recognized for several years during the 1920s as the best of the worst broncs. The image was supplied by the Tread of Pioneers Museum.
Early rodeos took place in Hayden, Steamboat Springs, Oak Creek and Mount Harris. A temporary arena was typically formed by circling horses and, later, automobiles. In Yampa, sections of the main street were blocked off to accommodate rodeos.
Authors Sureva Towler and Jim Stanko recalled in their book, "Faster Horses, Younger Women, Older Whiskey," that it is difficult to pinpoint the time of the first rodeo in Routt County. Area cowhands were known to test their skills with livestock at any campsite or corral.
The ornament is available for $7 today at the Steamboat Springs Chamber Resort Association at 1255 S. Lincoln Ave. Beginning Friday, it will be available at most banks in town and at Mr. Money. Kiwanis members will be selling the ornaments at grocery stores during upcoming weekends.