Ski Town Classic
Friday
Noon - Steamboat vs. Craig (midget)
1:30 p.m. - Providence vs. Cheyenne (midget)
3 p.m. - Steamboat vs. Renegades (peewee)
4:15 p.m. - Boulder vs. Arvada (peewee)
6:45 p.m. - Steamboat vs. NCYH (bantam)
8 p.m. - Arapahoe vs. Renegades (bantam)
9:15 p.m. - Craig vs. Providence (midget)
Saturday
7:45 a.m. - Arvada vs. Steamboat (peewee)
9 a.m. - Renegades vs. Boulder (peewee)
10:15 a.m. - NCYH vs. Arapahoe (bantam)
11:30 a.m. - Renegades vs. Steamboat (bantam)
12:45 p.m. - Cheyenne vs. Steamboat (midget)
2:15 p.m. - Renegades vs. Arvada (peewee)
3:30 p.m. - Steamboat vs. Boulder (peewee)
4:45 p.m. - Steamboat vs. Arapahoe (bantam)
6 p.m. - NCYH vs. Renegade (bantam)
8:45 p.m. - Craig vs. Cheyenne (midget)
10:15 p.m. - Steamboat vs. Providence (midget)
Sunday
6 a.m. - Peewee consolation
7:30 a.m. - Peewee championship
9 a.m. -Bantam consolation
10:30 a.m. - Bantam championships
Noon - Midget consolation
1:30 p.m. - Midget championships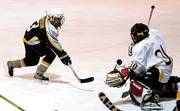 Steamboat Springs — Bantam hockey coach Tim Anderson views the Howelsen Ice Arena as a classroom and events such as this weekend's Ski Town USA Hockey Festival as the lessons.
"The coaches on our team are always looking for improvement from our players," he said. "It's not always about the wins or the losses, but what our kids are learning on the ice."
Anderson's team is scheduled to play four games - three in just 24 hours - during the event.
Anderson expects the tournament to be a growing experience for his team, and a chance to represent Steamboat Springs.
"This is a great chance to show off the Howelsen Ice Arena and our programs at the same time," Anderson said. "Sure, we want to win the title, but either way, the programs in Steamboat will win."
The Ski Town USA Hockey Festival begins Friday at noon and runs through Sunday at 3 p.m. Twelve teams, including three from Steamboat, will be vying for titles in the peewee (11-12), bantam (13-14) and midget (15 and older) divisions. All of the teams will be in the elite "A" division.
"This is our hometown tournament," said John Lupori, who coaches Steamboat's peewee team. "It's a chance for the local players to show what they can do on the ice."
Lupori said it's also a chance to play top teams from around the state and gear up for the league season.
The peewees are four games into an 18-game schedule.
"We got off to a slow start, but things have been picking up lately," Lupori said. "I think this tournament will be a chance for our players to come together as a team."
The Steamboat squad will have a chance to test its skills against several unfamiliar teams in a non-league format.
The Peewee Division will feature Steamboat and teams from Boulder, Arvada and Greeley. Steamboat faces Greeley at 3 p.m. Friday.
Steamboat's Bantam team, which is 2-0 in league play this season, will open the tournament against the NCYH Grizzlies in a 6:45 p.m. game.
The Steamboat Midgets will face off against Craig at noon Friday.
Although the champions will be crowned Sunday afternoon, the real winner of this weekend's events will be the Steamboat Springs Youth Hockey Association, which will profit from registration fees, souvenir sales and concessions. There will be a silent auction throughout the event and a puck toss, which will also benefit the SSYHA.
"We hold four tournaments during the course of the season that help support the association," tournament director Amy Hill said.
This weekend's tournament is free to spectators.