On the 'Net
Check updated weather reports on the Web at: www.weather.gov/gjt. For local forecasts, enter Steamboat Springs into the "select city" box.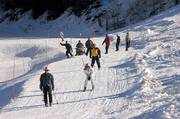 Steamboat Springs — A swirling storm could dump two feet of snow on Routt County by Tuesday night and create whiteout conditions in the mountains starting this afternoon, a forecaster said Sunday.
Meteorological technician Becky Klenk of the National Weather Service said a heavy dose of Pacific moisture, strong winds and cold temperatures will hit northern Colorado today and Tuesday, in a storm that could bring lingering snowfalls through Wednesday morning.
"Right now, we're looking at 12 to 24 inches of snow in the Steamboat area by late Tuesday, and also some very strong winds," Klenk said. "We're looking at whiteout conditions, and possibly even blizzard conditions over the mountain passes."
Klenk said temperatures could reach the 30s today, but should then dip into the 20s Tuesday and Wednesday, with sub-zero temperatures possible Wednesday night.
"It will be much cooler after the storm there is some cold air behind this system," Klenk said Sunday at the weather service office of the National Oceanic and Atmospheric Administration facility in Grand Junction.
The weather service issued a winter storm watch for much of western Colorado Sunday afternoon.
"We haven't seen much moisture with a lot of the storms that have moved through lately, but this one really does have some good moisture," Klenk said. "It could be a pretty good snowfall."
That's good news for staff at Steamboat Ski Area, which had limited runs available to skiers and snowboarders on its opening weekend due to warm temperatures and a lack of snow.
"Bring it on," Andy Wirth, vice president of sales and marketing for Steamboat Ski & Resort Corporation, said Sunday of the incoming storm. "We're obviously at a stage where after a busy weekend, any new snow is welcome."
Wirth said that while he could not release specific attendance figures, he and other resort staff "were very encouraged by the skier traffic over Thanksgiving weekend." Wirth credited mountain operations crews for maintaining good conditions on ski runs despite dry weather and heavy use.
"I couldn't be prouder with what the mountain ops teams have done, given the circumstances," Wirth said. "Managing the snow is both an art and a science. And throw onto that a lot of hard work."
Wirth declined to speculate on how much snow is needed to open more terrain at the ski area.
"We had some very good snowfall in September and October, and there are parts of the upper mountain that are in very good shape," he said. "We still need quite a bit of show to make for a safe opening."
Wirth cautioned that even with new snow, skiers and snowboarders need to stay within ski area boundaries.
"We have to keep emphasizing the need for everybody to exercise control, ski safely, and not duck ropes," he said. "If terrain is not open, that means our professional ski patrollers have decided it's not safe."
Klenk said northwest Colorado should see the heaviest snowfall in the state over the next two days.
"You're going to be one of the lucky ones with this storm," she said of skiers and snowboarders in Routt County. "This whole system is staying more north - the San Juan mountains will see some (snow), but not like the mountains up in your area."
Klenk said the incoming storm likely will bring the last snowfall until at least next week.
"We're looking at a drier time from Wednesday through at least Saturday," she said.
- To reach Mike Lawrence, call 871-4203 or e-mail mlawrence@steamboatpilot.com