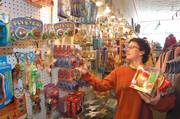 This holiday season is all about high-tech toys. Don't believe it? People started camping out at 10 a.m. the day before the Steamboat Springs Wal-mart released the new PlayStation 3. Wal-Mart got only six units, and the store is unsure of when it will receive more.
"My boss let them come into the lobby area once the store was closed and set up space heaters," said Leah Fletcher, department manager of electronics for Wal-Mart. "The people that we had were great. They didn't try to cut in front of one another and there was almost a camaraderie because they had spent the night together."
The PlayStation 3 - which comes in a 20-gigabyte model that retails for $499 and a 60 gigabyte model that retails for $599 - has Blu-Ray technology, which is a step above high definition, Fletcher said.
"Just the graphics are amazing. The 60 GB models are going for $3,000 to $4,000 on eBay right now because they are so hard to come by."
People also camped out when Wal-mart released the new Nintendo Wii game system. Wal-Mart got 20 units.
The Nintendo Wii - which retails for $250 - is interactive and features the first video game motion-sensitive controller.
"You can stand there and you are actually taking the controller and swinging it like a golf club," Fletcher said. "And there's a Samurai-type game where you can take the controller like you are slashing someone's throat and it will slash someone's throat on screen."
iPods still are very popular this holiday season, and Apple has recently released new colors and improved some of its current models.
"They are upgrading their Shuffle from 512 megabytes to one gigabyte and it is no longer like a regular shuffle," Fletcher said. "They are probably no bigger than a man's thumb."
Microsoft has come out with its own version of the iPod called the Microsoft Zune.
"They have the same holding power and the same price and are really trying to be competitive with iPods, but we haven't sold any yet," Fletcher said. "It really isn't living up to the hype, and I don't see iPods slowing down."
Flat panel LCD televisions are also on the rise. The good news? Prices are going down.
"People want the flat panel LCD to hang on their walls," Fletcher said. "Most of them went down in price about two months ago about $50 each. A 15-inch LCD TV is just under $200 now."
There are now interactive Barbies like the Let's Dance Princess Genevieve Doll.
It has interactive wrist and ankle bracelets so children can dance with her.
Another classic game that has undergone a makeover is Monopoly, which has a new Monopoly Here & Now edition. "It has the modern makeover for today's would-be billionaire. They've added places like Hollywood, Las Vegas, Disneyworld and Texas Stadium in Dallas," said Carol Miller, department manager of toys and support manager for Wal-Mart. "And your little movable pieces are not the thimble and dog anymore. They are a Starbucks cup of coffee, McDonald's French fries, a mobile phone, a jet plane and a labradoodle."
Tamagotchis - which are virtual reality hand-held pets that make noise and children need to feed - are still hot this year, Miller said. "And anything Dora the Explorer is really popular, like Dora's Talking Cash Register and Fairy Wishes Dora."
The whole line of Scene It? Games, Glo-e Babies and the new Fisher Price ESPN Fast Action Football Electronic Game Table are hot items, Miller said.
"The football game has a little pad you put on the floor and the faster you run, the faster the action on the game. It almost looks like a foosball table but has legs," Miller said. "I get tired just looking at it."
Not everything this Christmas has taken a technological leap. "The old stand-bys are still the most popular board games including Monopoly, Cranium, Life and Battleship," Miller said. "And Hot Wheels sets for boys are always popular."