Did you know?
- More than 85 percent of the children who are victimized know the perpetrator.
- In the U.S., 14 children under the age of 20 are killed every day with a gun.
- One out of every four girls and one of out seven boys is sexually molested by the age of 18.
- One out of five children receive a sexual solicitation over the Internet.
- Parents should update photos four times a year for preschoolers and once a year after that.
- A typical molester will abuse between 30 and 60 children before he or she is arrested.
- A bullying situation occurs about every nine seconds.
Compiled from the Safety Kids Web site.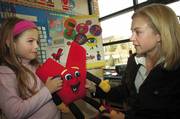 Steamboat Springs — On Tuesday, a group of Steamboat Springs police and community service officers learned that you should never accept candy from a stranger on the playground and that you should shut and lock the door when your mom isn't around.
Their teachers?
A group of bright-eyed Soda Creek Elementary School kindergartners.
Officers Ricky Romero, Kevin Craig, Deb Funston and community service officer Tom Whiddon were invited to the school to take part in a pilot safety program that the school is teaching its students.
Safety Kids is a nonprofit organization that is dedicated to addressing personal child safety issues like abduction, abuse, violence and substance abuse. The curriculum is "non-fearful" and age appropriate. Lessons are tailored to each grade so that students start by learning to correctly use 911 in kindergarten and gradually learn other safety lessons such as how to be safe on the Internet and avoid predators.
Counselor Brande O'Hara said the program is an asset because it teaches the students that they can be responsible for their personal safety.
"The 'Stranger Danger' message is out because, unfortunately, 80 percent of perpetrators are people children know. Saying, 'don't talk to strangers' doesn't work anymore," she said.
O'Hara said she had never had personal safety curriculum presented to her until finding out about Safety Kids at a recent conference.
"This was an area that we hadn't thought was part of our role. It had never been put in front of us," she said.
The students, depending on their ages, participate in the program every week or every other week.
Having four Steamboat Springs officers reiterate the lessons helped, O'Hara said.
"Once I contacted them, the police department was immediately responsive," she said. "I am thrilled that they thought it was important to come talk to our students. It's good for (the students) to hear this from a uniformed adult."
During the 20-minute session, the officers quizzed the students on what they had learned in the classroom and answered their questions, most of which involved questions about what to do when being contacted by a stranger.
Romero told the students to be aware of all strangers, including police officers.
"Even if it's a policeman, you don't want to go anywhere with anyone because what if he's pretending to be a police officer?" he said. "It's OK to tell a policeman you're scared and that you don't want to go anywhere, because a real policeman understands that you'd be scared."
After receiving a junior police badge and a high-five from Romero, River Hansen, 5, said having the policemen come to his school was the best part of his day.
"I like them. They're cool," he said.
Hansen even went as far as to say he wanted to be a policeman when he grows up.
Why? "Because they pull people over," he said smiling ear to ear.