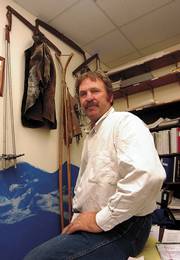 Steamboat Springs — A Routt County commissioner is expanding his job across the state.
Hayden rancher and accountant Doug Monger, elected county commissioner in 2000 and re-elected in 2004, has been named the next president of Colorado Counties, Inc., or CCI, a statewide organization of county commissioners and officials. The announcement will be formally made this week, during CCI's 99th annual Winter Conference in Colorado Springs. Monger has also been asked to join an advisory committee for Governor-elect Bill Ritter's "transition team," which will help Ritter assess the current state of Colorado government in preparation for taking office in January.
Monger will replace Glenn Vaad, a Weld County commissioner.
"There's not a lot of power in the position, but it is a pretty prestigious job, and I feel honored to be elected by my peers to serve as president," Monger said Friday.
Monger is in his third year representing CCI's Western District on the CCI Board of Directors. The Western District includes 16 counties in western Colorado. Before joining the CCI board, Monger spent a year as chairman of the Western District - a position he earned just two years after winning his first election.
"I believe I've earned the respect of my fellow commissioners by being able to cooperate, compromise and work for the best interests of our counties, as well as for county interests statewide," Monger said.
Lobbying legislature
Monger said the primary duty of his new post will be lobbying for CCI interests during the 2007 legislative session. "That's a different kind of outfit down there," he said, noting that as a Routt County commissioner he has appeared before legislative committees "three or four times."
While it will be Monger's duty to represent the entirety of CCI interests at the Capitol, he acknowledged that he will not forego the chance to give local issues statewide attention.
"I think it's important for the perspective of Routt County citizens to be heard statewide," Monger said. "From forest health and the bark beetle epidemic to agriculture and tourism, it's good for the county to be represented strongly in the state arena."
Monger is a member of the Yampa/White Basin Round-table, one of Colorado's nine water roundtables created by the Legislature in 2005 to address present and future water challenges in each of the state's eight major river basins and the Denver metro area.
Monger has previously chaired a CCI committee to address water issues no simple task in Colorado.
"Water has always been a very contentious issue for county commissioners in the state, because we all have such diverse issues on water," Monger said.
Routt County Commissioner Nancy Stahoviak praised Monger's dedication to roadless-area conservation and use issues, water planning, and public lands discussions.
"He's done a good job in those respects," Stahoviak said. "Doug has chosen to be really active and involved in the CCI. I'm glad that there are commissioners like Doug who choose to get involved on a state level."
Routt County Commission-er Dan Ellison took a lighter approach to Monger's new leadership role.
"I expect CCI to fall apart in the next year," Ellison joked Monday.
Time to talk
Ellison said he is looking forward to this week's CCI conference, which has workshops scheduled on a wide variety of topics related to county government, including effects of this year's election, child care, health and human services, economic development, energy development, road surfacing, and a lengthy session Wednesday morning called "Colorado's Immigration Conundrum."
Nearly all the workshops feature speakers and moderators from governmental bodies across the state.
"These conferences have proven to be a really good way for us to expand our exposure," Ellison said of the networking opportunities throughout the event.
For Ellison, a 12-year county commissioner, this week will mark his last CCI conference. Commissioner-elect Diane Mitsch Bush, conversely, will attend her first CCI conference in preparation for replacing Ellison in January.
Monger said he is most looking forward to two honors he will receive at the conference as the next CCI president: introducing Ritter and U.S. Sen. Ken Salazar.
Monger is an active member of the Routt County Democratic Party.
Monger said he has been asked to serve on the "Local Affairs" advisory committee for Ritter's transition team. The committee will examine regional impacts of the Colorado Department of Local Affairs, and will be led by co-chairs Marcy Morrison, mayor of Manitou Springs; Rosemary Rodriguez, member of the Denver City Council; and Ken Torres, Las Animas County Commissioner.
Monger said despite the statewide exposure, he is not yet thinking about pursuing a higher office.
"I wouldn't say that right now, no," Monger said. "I'm happy to be doing the things I'm doing for Routt County, and there are still a lot of things I want to get done at the county level."
- To reach Mike Lawrence, call 871-4203 or e-mail mlawrence@steamboatpilot.com