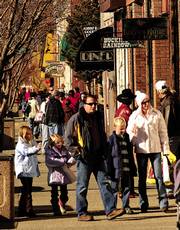 Steamboat Springs — Linda Petet had to extend her store hours Friday to accommodate shoppers.
"We definitely had a lot of traffic," she said Saturday. "It seemed to me that there were more large groups of people - you know, families shopping with their families - than there were single shoppers."
Petet, and her husband, Rick Petet, own Steamboat Show Market on Lincoln Avenue.
The day after Thanksgiving historically is one of the busiest retail shopping days of the year. But while volume is always high, it isn't always the day with the highest sales volume.
In Steamboat Springs, most downtown businesses are busiest the week before and the week after Christmas.
"(Thanksgiving) weekend is a pretty good weekend for us, but I wouldn't say it makes or breaks us," Petet said. "This is really just kicking us off for the holiday season:we'll get much, much busier around mid-December when the jets start bringing the tourists in."
Ski season jet flights start Dec. 15.
Tracy Barnett, executive director of Main Street Steamboat Springs, agreed.
"It's typical Steamboat. People that live here don't typically start shopping until the last minute," she said. "Black Friday isn't as big in Steamboat as it is other parts of the state."
The National Retail Federation estimated nearly 137 million Americans spent Friday shopping, and that holiday sales could reach nearly $457 billion, up 5 percent from 2005.
The National Retail Federation is the nation's largest retail trade association.
Tracy Mullin, president and CEO of National Retail Federation, said electronics and toys comprised much of Friday's sales, and reiterated that Black Friday is just the beginning.
"Although Black Friday is not the biggest day of the year for sales, it is a huge day for traffic, which gives retailers an opportunity to debut merchandise to consumers who will be shopping all holiday season long."
Jenny Wilson, owner of Moose Mountain Trading Co., said Friday was just that, a good day to display a wide variety of items that shoppers can't resist.
"We had a great day with tons of great traffic," she said.
Wilson said Friday's crowds were bigger than last year's, possibly because of the lack of snow at the Steamboat Ski Area.
"Last year the snow was terrific and we may not have seen as many people. Overall, we're very pleased," she said.
Riley Polumbus, spokeswoman for the Steamboat Springs Resort Chamber Association, said an estimated 3,900 visitors were in town over the holiday weekend and that if they weren't skiing, they were probably shopping.
"I would suspect because we didn't have a huge amount of snow that perhaps we had a strong number of people taking advantage of the shopping," she said. "What's better than getting started on some Christmas shopping in a town that has nice stores?"
December is a critical month for sales tax receipts. Last year, the city netted $2.3 million on December sales, about 14 percent of sales tax revenues for the year. So far this year, sales tax receipts are running about 12 percent ahead of last year.
Barnett said she was amazed at the throngs of people juggling shopping bags Friday and Saturday as they made their way up and down Lincoln Avenue and Yampa and Oak streets.
"Everywhere I went, it seemed people had three bags on each arm," Barnett said. "That was my indication that we were having a pretty good day."
Watching the bustling shoppers was also a welcome sight, she added.
"People should be encouraged to shop Steamboat first to keep our money here," she said. "It does Steamboat no good if you send it elsewhere."
- To reach Alexis DeLaCruz, call 871-4234
or e-mail adelacruz@steamboatpilot.com