Past Event
Thursday, November 30, 2006, 10 p.m.
Mambo Italiano, 521 Lincoln Ave., Steamboat Springs
21+ / Free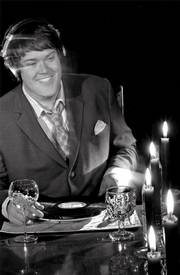 Steamboat Springs — When Robert Roulette, aka DJ School Graduate, is behind his turntables, he's spinning vinyl - because it's sexy.
"Vinyl does sound better because it's analog, which is closer to what we hear," Roulette said. "I was using my iPod for awhile, but it just doesn't feel right."
Of course, Roulette "admits" to cheating by having a portable CD player on hand for special requests.
"I was kind of a snob in the beginning and only wanted to play what I want," he said. "But I've gotten better and learned how to share."
Roulette has been spinning professionally for a year and usually can be found mixing grooves at Mambo Italiano every Thursday night for Ladies Night.
He primarily plays hip-hop, jazz and funk, and he has come up with a formula for a successful lineup.
"You have to start off slow and build it up as the night goes on," Roulette said. "I like to start by playing what I like for an hour to warm up. But impatient people start requesting."
Roulette went to sound recording school to become a live sound engineer, but did not pursue it as a profession because he was worried about losing his hearing. Sound engineers can't wear headphones because they have to hear what the crowd hears, Roulette said.
"(Sound engineers) wake up one day, hear ringing in their ears and they're done. If you live the rock 'n' roll lifestyle, you have to pay the price."
Roulette wants to start incorporating visual effects into his repertoire by playing video clips and animation during his shows.
"I want to do cinematography, stills, shoot films and time lapse," he said. "But I'd rather live here than L.A."
Eventually Roulette would like to combine his three passions of cooking, painting and spinning by opening a venue in Steamboat with a balcony.
He is having an art show at Mambo on Dec. 15, when he will show off his acrylic on canvas paintings. And he is going to Ireland in January for four months to attend cooking school.
"My ultimate dream would be to open a real venue in Steamboat where I can incorporate my paintings, a restaurant and music," Roulette said. "I also want to offer 25-cent beers and have my brewery in Craig."
In the meantime, it's all about the music.
"You gotta feel it; otherwise it's just background music," Roulette said. "And having vinyl is a good secret, because people think you know what you're doing."