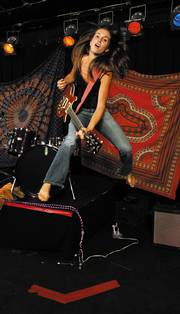 Past Event
Friday, November 24, 2006, 9:30 p.m.
Old Town Pub & Restaurant, 600 Lincoln Ave., Steamboat Springs
21+ / Free
Steamboat Springs — While playing a show in Springfield, Ill., one of Tiffany Christopher's band members dared her to take off her shirt.
"So I played all night in my black bra, and many of the women in the audience took off their shirts, too," said Christopher, a guitarist, songwriter and singer. "Sex is a big part of what we do. I'm almost more comfortable in my skin than clothes. Sometimes if I could just go naked it would be much better."
Christopher will perform tonight at Old Town Pub with Hilary Murray, a violinist, cellist and back-up vocalist.
Using their sexuality is part of their duo performance.
"I think it's definitely a tool we use to be sexy women on stage," Murray said. "When we first walk in the room where people haven't seen us before, they think, 'Oh here we go.' They don't expect what comes out of us."
When it's just the two of them, without their five-piece band, they play a mixture of rock, bluegrass and jazz.
"After the first song people shut up, listen and clap because they realize we have chops as well," Murray said. "It's frustrating to us to prove ourselves all the time."
Christopher and Murray also use improvisation in their sets.
"We feed off of what each other is doing," Murray said. "I look for eye signals, winks, smiles and nods."
Christopher writes all the songs and lyrics and belts them out with a sensual voice.
"A lot of our songs are about philosophy and lessons we have learned," she said. "And I write truly fictional stories that I pull out of my ass. They are things I would like to talk to people about."
Both women deliver an intoxicating performance in a tough musical circuit.
"It's a man's world out there - especially the music industry," Murray said. "I couldn't do it with a less rockin' chick, or we would be moving backwards."