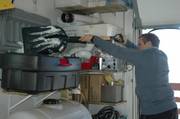 Steamboat Springs — Gannet Hallar and Ian Mc-Cubbin's morning commute is longer than that of most Steamboat Springs residents.
There are no stoplights or traffic jams, but it does take more than 30 minutes to ascend from the Thunderhead Express lift to the Storm Peak Laboratory on a snowmobile.
This November morning started slower than usual bec-ause McCubbin and Hallar had to dig one snowmobile out from beneath three feet of snow. But the scientists have no regrets about leaving San Francisco behind. The snow and the climate are two reasons why they relocated from California.
"This is a job of a lifetime," Hallar said. "People talk about having their heads in the clouds. Our heads are literally in the clouds."
And when you study atmospheric sciences, being as close as possible to the clouds is ideal.
Hallar is the director of the Storm Peak Laboratory, which is atop the Steamboat Ski Area. She replaced longtime director Randy Borys late last month. Hallar, who has yet to celebrate her 30th birthday, is young but qualified and experienced. She has a doctorate in atmospheric sciences from the University of Colorado in Boulder.
She had another bonus on her application - McCubbin. He is a former NASA employee with a working knowledge of the instruments being used at the Storm Peak Lab, as it is often referred to in Steamboat.
"I'm interested in the snow aspect," McCubbin said.
Borys was researching the shape and content of snowflakes, and McCubbin wants to amplify that work in the months and years ahead. He will be tracking size, shape and moisture content in the snow.
"We do field research," Hallar said. "(Working at the Storm Peak Lab) allows us to do field research without having to travel. We can have a life. This is the perfect place."
Hallar sips a Diet Coke in the lab's small kitchen more than 10,000 feet above sea level.
Talk about an office with a view.
The Storm Peak Lab has operated in relative anonymity for years, but that may change. Hallar and McCubbin are interested in doing outreach classes with area students and will continue to welcome college students from across the country.
The pair also will welcome a large research contingent from the Desert Research Institute, Colorado State University and the National Center for Atmospheric Research in January and February.
Scientists from those institutions will be researching the effect of pollution on snowfall rates.
Meanwhile, Hallar will conduct her extensive and prolonged study of air quality in the area. Specifically, Hallar is researching the impurities that are suspected of being transported from Asia and India.
Research shows mercury content in the air above Mount Bachelor in Oregon, and Hallar is conducting a similar study in Steamboat.
Hallar and McCubbin also are planning on hosting open houses at the Storm Peak Lab, which is often referred to as a "weather lab."
"It is, but it's so much more," McCubbin said.
The Storm Peak Labora-tory's largest in-kind donor is the Steamboat Ski Area, but the lab is not a part of the ski area, so Hallar and McCubbin are responsible for securing funding for the lab's continued operation.
The National Science Foun-dation contributes most of the lab's funding, but individual donors in Nevada also contribute to the lab's success.
For more information on the Storm Peak Lab, including updated weather conditions and research findings, visit www.stormpeak.dri.edu.