Ringing in the holiday season
Thursday, November 23, 2006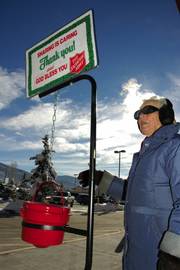 Steamboat Springs — Plan on seeing a familiar sight this holiday season.
For the eighth straight year, Salvation Army bell ringers will collect donations in front of Wal-Mart, Safeway and City Market in Steamboat Springs. And although several people have signed up for bell-ringing shifts, more volunteers are needed.
"We do it in order to make sure we have funds to help families going through tough times," Salvation Army volunteer Susan Mizen said. "The more volunteers we have, the more money we'll make."
The money goes into a local bank account and is given to families faced with emergency situations. LIFT-UP of Routt County distributes the money to those needy families.
"The maximum per family per year is $250," Mizen said. "We set that limit to try to help as many families as possible. Dental work, prescription, utilities and fuel costs are typical types of things people use the money for."
Last year, Mizen said, the Salvation Army had its most successful year locally. Bell ringers helped collect more than $16,000. Mizen said they had "a couple hundred" volunteers last year and estimated they had more than 300 hours of bell ringing.
"An hour of bell ringing can bring in $40 or $50," she said.
Volunteer shifts begin today and run daily through Christmas Eve. Mizen said volunteers usually sign up for one or two hours at a time. She said it's a great way for families to give back to the community.
To go along with the bell ringers, employees at Wal-Mart are decorating three trees that customers can bid on. The money made from tree sales will go directly to the Salvation Army.
Anyone interested in volunteering this weekend can call Mizen at 879-4466. Those interested in volunteering any other time should call Susan Corser at 879-5986.