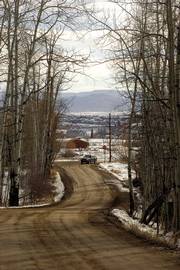 Steamboat Springs — Rural Routt County residents can loosen their grip on the steering wheel this winter.
The Routt County Board of Commissioners is adding an assistant foreman and three equipment operators to the county's Road and Bridge Department, and the extra staff will provide "consistent evening and weekend snowplow coverage," according to a 2007 budget report prepared by Routt County Director of Finances Dan Strnad.
The county previously has conducted evening and weekend plowing of county roads on an on-call-only basis.
"We all agreed this is something we needed to do," Commissioner Nancy Stahoviak said Wednesday. "More and more people are living out in the rural parts of the county. Instead of the on-call responses, we're going to increase the level of service."
Stahoviak said the commissioners recently received a letter from the North Routt Fire Protection District requesting more consistent plowing of county roads in North Routt.
"They felt (inconsistent plowing) was a real danger to their emergency services," Stahoviak said.
The Road Review Committee, a citizens group appointed by the commissioners that began meeting in spring 2006 to discuss county road issues, also recommended an increase in plowing services on county roads.
Stahoviak said the county will host a public meeting in January to discuss other recommendations, including which unpaved county roads should be considered for paving.
Steamboat Springs resident and committee member Stuart Handloff told commissioners Wednesday night at a public hearing about the 2007 county budget that the Road Review Committee should become a permanent advisory group for the county.
"That may be something that we consider," Stahoviak said.
Handloff was the only citizen to attend Wednesday night's hearing, which was intended to gather public comment before the commissioners adopt the 2007 budget next month.
The budget currently includes about $63 million in projected 2007 expenditures and $52 million in revenues. In 2006, Routt County will spend a projected $73.5 million while receiving $64 million in total revenues.
This year's smaller budget is largely because of the loss of $6.7 million in federal funding for construction of the new terminal at Yampa Valley Regional Airport in Hayden, and ongoing construction of the new, $13.4 million Routt County Justice Center, scheduled for completion in September.
"I don't think there will be any changes to the budget as it moves forward to our adoption," Stahoviak said Wednesday, noting that one exception could be $20,000 for office furniture in the new Justice Center.
Strnad said the new evening and weekend plowing on county roads will be delegated according to road usage.
"They'll definitely make the major roads open first," Strnad said, naming Routt County Road 129 in North Routt and Routt County Road 27, connecting Oak Creek to Hayden, as examples.