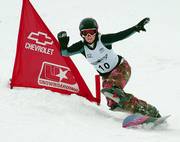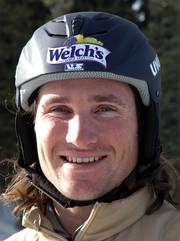 Steamboat Springs — If it wasn't clear just how strong the snowboarders from the Steamboat Springs Winter Sports Club were before Monday's parallel giant slalom race in Copper Mountain, it was afterward.
Leading the way for the men in the first Race to the Cup event of the season was Steamboat Springs' Tyler Jewell. Jewell topped Canadian Jasey Jay Anderson in the finals. Chris Klug of Aspen finished third.
"It was huge," Jewell said. "In the past, I've always had a pattern of slow starts. But on Monday I found my rhythm and it felt really good. It was nice to win a race this early in the season."
Steamboat's Justin Reiter, who posted several top results in two World Cup events earlier this winter, placed fifth. Other top Winter Sports Club riders included Josh Wylie in seventh, Darren Ratcliffe in 11th, Zachary Kay in 12th and David Manthei in 15th.
The women's race went to former Winter Sports Club rider Caroline Calve, who spent last winter in Steamboat Springs but has rejoined the Canadian national team this season. She was followed by Sweden's Aprilla Hagglof and Kimiko Zakreski, another Canadian who spent time with the Winter Sports Club last season.
Winter Sports Club rider Johanna Shaw finished fourth, and former Steamboat rider Michelle Gorgone placed fifth.
On Tuesday, the riders shifted to the slalom course, where the Winter Sports Club riders continued to enjoy top finishes.
Sweden's Daniel Biveson won the men's race after edging Reiter in the finals. Shaw, who rides for Australia, won the women's race. Zakreski was second, and Hagglof was third.
Steamboat snowboard coach Thedo Remmelink was thrilled to see the club's current and former riders have such strong showings.
"The level of competition at these Race to the Cup events is much stronger than it was last year," Remmelink said. "It's great that our riders continue to ride so well."
The Race to the Cup is a series of Alpine snowboard races in which riders can earn points and World Cup starts, similar to the NorAm. Many of the riders in this week's races will head back to Europe for World Cup and Europa Cup events. Others will travel to Canada for a NorAm event Dec. 15 and 16. Remmelink expects all of the riders to return to Steamboat Springs in early January to take part in the second Race to the Cup event, which will take place at Howelsen Hill.