Photo Gallery
Opening Day 2006-07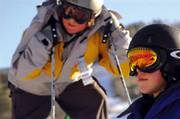 Steamboat Springs — Shouts of excitement and a healthy dose of optimism helped usher in the first day of the 2006-07 season at the Steamboat Ski Area on Wednesday.
"It's just
a big party,"
said Steamboat Springs resident Jeanine Dinome, who enjoyed the traditional mimosas and breakfast burritos before stepping off the first gondola car at Thunderhead. "Everyone was screaming and just excited about the beginning of a new season. I think it's going to be a good season."
The ski area reported 17 trails and five lifts open for Scholarship Day, the name given to opening day because proceeds from the $15 lift tickets benefit the Steamboat Springs Winter Sports Club's scholarship fund.
Today is the first day season passes will be accepted at the ski area, and Steamboat Ski and Resort Corp. officials said top-to-bottom skiing will begin Friday, when the Storm Peak Express and Thunderhead Express chairlifts are scheduled to begin service.
Ski Corp. officials said 24 trails will be open to skiing and riding today.
Limited terrain and sub-par snow conditions couldn't keep the smile off the face of part-time Steamboat resident Patti Slepkow on Wednesday.
"I'm feeling juiced," Slepkow said as she exited the gondola and prepared to take her first run of the season. "It's a beautiful day. OK, the terrain is a little limited, but hey, we're skiing."
The temperature reached 50 degrees Wednesday, which helped soften the hard-packed snow.
University of Wyoming senior Andrew Zabeck looked nervously down at bare spots on the mountain while riding the gondola. He said he will come to Steamboat just about every weekend this season, and he's hoping for another season like last year.
"I don't have class on Monday or Friday next semester, so I'll be here four days a week," Zabeck said.
Steamboat Springs Middle School seventh-grader Hunter Zacher moved to Steamboat from Fort Collins during the summer and enjoyed his first day at the Steamboat Ski Area.
"It's something different," Hunter said. "I've never had a ski pass before."
Hunter said he looked forward to snowboarding with the Winter Sports Club this winter.
Since Ski Corp. started Scholarship Day in 1991, it has raised more than $480,000 for the club.
Andy Wirth, vice president of sales and marketing for Ski Corp., said more than 3,000 people hit the slopes Wednesday - a great turnout considering the limited amount of skiable terrain.
"We're absolutely thrilled by the response and support of the community," said Wirth, who also is president of the Winter Sports Club's board.
Wirth said Scholarship Day helps make it possible for all children to participate in the club.
The first day of skiing meant the first day of on-mountain injuries for an unlucky few. Ski Patrol director John Kohnke said a couple people suffered minor injuries Wednesday. Some skiers and riders also were caught entering closed terrain.
"It's disappointing to me that we had seven cases today of people ducking ropes," Kohnke said.
Those people were escorted to the security office and issued citations by Routt County Sheriff's Office deputies. They face fines of as much as $1,000.
"It's going to be a long season - make sure you make smart choices and are here to enjoy all of it," Kohnke said.
Vice President of Mountain Operations Doug Allen said snowmaking crews did a great job of preparing for opening day by monitoring temperatures closely and putting snow where it needed to go.
Storm Peak could have been open, Allen said, but officials didn't want to rush it.
"Any additional snowmaking we can do will make it more durable for the weekend," Allen said.
There is a chance of rain and snow showers today and tonight, according to the National Weather Service. The next chance for significant snowfall is Monday or Tuesday.
-To reach Matt Stensland, call 871-4210
or e-mail mstensland@steamboatpilot.com