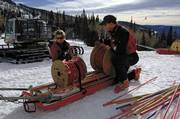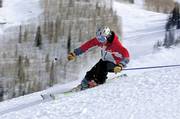 Steamboat Springs — The 2006-07 ski season kicks off today at the Steamboat Ski Area with 17 trails and 139 acres of skiable terrain. Those trails will be accessed by six chair lifts, Steamboat Ski and Resort Corp. officials said Tuesday.
Among the open trails are: Arc, Boulevard, Flat Out, Giggle Gulch, Headwall, Headwall South, Preview, Right-O-Way, Yoo Hoo, Betwixt, Eagles' Nest, Ego, Lightning, Rudi's Run, Tower and Upper Vagabond. They will be serviced by the Gondola, Burgess Creek, Preview, Tenderfoot carpet, Southface and Christie III lifts. None of the beginning trails coming down from Thunderhead will be open. Ski Corp. officials anticipate top-to-bottom skiing beginning Friday.
Today is Scholarship Day at the ski area, a tradition that dates back to 1991. Lift tickets will cost $15, with proceeds benefiting the Steamboat Springs Winter Sports Club. Last year's Scholarship Day raised nearly $50,000.
"The money raised from Scholarship Day goes a long way in helping as many families in Routt County as possible participate in the Steamboat Springs Winter Sports Club's ski and snowboard programs," said Rick DeVos, executive director of the club. Season passes are not valid today.
On Thanksgiving Day, lift tickets will cost $39, and season and value passes will be accepted.
The ski area is reporting an 18-inch base at mid-mountain with packed powder and machine-made conditions. This year's opening includes more than twice as many trails as were available on opening day the past two seasons.
There will be no backcountry access at the ski area today, and hiking up trails to access backcountry terrain will be prohibited.
The ticket office will be open from 8 a.m. to 5 p.m. beginning today, with the exception of Thanksgiving Day, when it will close at 4 p.m. The lifts open at 8:30 a.m.
The National Weather Service forecast office in Grand Junction is forecasting a chance of rain Thanksgiving Day and a high temperature of 49 degrees. The precipitation could turn to snow Thursday evening with dry conditions persisting through the weekend. A storm system is anticipated early next week, when lower temperatures increase the likelihood that any moisture that falls from the sky will be snow.