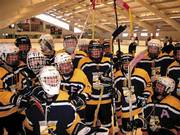 Steamboat Springs — The wins were great, but youth hockey coach Herald Stout was even more impressed with the growth he saw in his players last weekend in Aspen.
"Every girl on our team walked away a better hockey player than they were when the arrived," Stout said.
The improvements on the ice also came with a few perks. The Steamboat Springs 12-and-under team picked up four wins en route to winning the Fall Faceoff tournament title last weekend. It was the first tournament of the season for the Steamboat team that has 10 new players on the squad's 17-player roster.
"They all love playing hockey," Stout said. "They bring a lot of energy and enthusiasm to the ice with them."
That youthful enthusiasm was tested Saturday, when Steamboat faced off against Aspen in the team's first game. Aspen came out fast, getting three first-period goals from Abby Costello, Maddie Grant and Kylie Davis. But Stout said he never panicked and encouraged his players to do the same. The players responded with three second-period goals.
The first came early in the second period when Megan Stabile took a pass from teammate Monica Patten and knocked it into the back of the goal. Hannah Samlowski provided two more goals later in the period to tie the game at 3-3. The game remained tied for most of the third period until an Aspen penalty gave Steamboat an opening. Stout said he made a slight shift to his lines for the power play, and it paid off when Samlowski scored the game-winning goal with 1 minute, 47 seconds left to play. She added another a few seconds later, securing Steamboat's 5-3 victory.
Steamboat faced Colorado Select in the second game of the day, and rolled to a 9-2 victory. Samlowski netted two first-period goals, and Ali Pougiales added another to give Steamboat a 3-0 advantage.
It was all the offense Steamboat needed to win. Goalkeeper Ellana Williams surrendered just two goals in three periods. Steamboat's defense, which was anchored by Sara Stout and Hannah Bashan and Pougiales, allowed just five shots in the game. Meanwhile, on the other end of the ice, Steamboat unleashed 21 shots getting goals from Mikenzie Ochs, Stabile, Katie Thielemann and Patten. Samlowski finished the game with three goals and two assists, and Pougiales had two goals. Steamboat also got assists from Bashan, Thielemann and Shayna Kinzie.
On Sunday, Steamboat returned to the ice to face the Colorado Select for a second time. This time, Williams was perfect in goal, stopping eight shots and helping Steamboat collect a 6-0 win. Samlowski led Steamboat with three goals. Stabile, Thielemann and Patten also contributed. Aleigh Aurin had two assists, and Ochs and Stabile each had one.
The victory set up a rematch with Aspen for the title. It was a close game, but not even a strong individual effort by Aspen's Arianna Buxman, who missed the first game, could keep the Steamboat team from the title. Buxman had four goals in the game, but Stout said his defense was able to make adjustments needed to stop the top Aspen player when it counted.
Steamboat's offense was driven by two goals from Samlowski and a pair from Stablile. Thielemann and Pougiales also scored in Steamboat's 6-5 victory.
"This was a great way to start the season," Stout said. "I think it will help us gel as a team. It also gives our players a lot of respect for each other and taught them how to be leaders and what it's like to be part of a team effort."
The Steamboat team will have a few weeks to sharpen its skills before opening the league season Dec. 16 to 17 in Denver. The team is scheduled to play 12 league games this season and has set its goal on making the Mountain State's Girls Hockey League Championships in March.