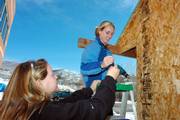 Steamboat Springs — Hayden School District vocational teacher Kevin Kleckler has fielded three calls from Steamboat Springs parents who want to send their children to Hayden because of its vocational classes.
But Kleckler's response to those parents hasn't been what they wanted to hear. In fact, he has to tell many Hayden parents the same thing.
"We don't have space," Kleckler said last week.
The Hayden School District is a leader in Northwest Colorado in terms of the vocational opportunities it offers its high school students. But Hayden isn't the only district with a vested interest in the future of vocational programs in the region. Vocational programs often include classes in areas such as welding, auto mechanics, woodworking and building trades.
Now, it appears education leaders will look to local community colleges to provide the backbone of expanded vocational opportunities for high school students and others.
Officials with the South Routt, Steamboat Springs, Hayden and Moffat County school districts have teamed up with Colorado Mountain College, Colorado Northwestern Community College and the Northwest Colorado Board of Cooperative Educational Services, or BOCES, to form the Career and Technical Education committee. Others with an interest in the future of vocational programs in the area also have attended the monthly committee meetings to help area educators and business leaders formulate a plan for the coming years.
In October, the Career and Technical Education committee determined that its "immediate goal should be to support a community college initiative to expand the career and technical education options in the Yampa Valley," according to minutes from October's meeting.
"This would mean building linkages among all entities in terms of facilities, funding and communication to assist the community colleges as they expand their career and technical education programs for both high school students and postgraduates."
The message was a welcome gesture, said Kerry Hart, dean of Colorado Mountain College's Alpine Campus in Steamboat.
"Basically, we are looking at expanding and enhancing our current offerings," Hart said.
"What it does is it sets a direction : throughout the valley," Hayden Superintendent Mike Luppes said.
Kleckler already teaches welding classes - in Hayden - for Colorado Northwestern Community College. The class meets at 7 a.m., and its enrollment is a mix of high school students and adults.
Providing high school students the opportunity to take classes for high school and college credit is an option already in place at the three county school districts. Also appealing - and necessary - is providing high school students education in a line of work they want to pursue after graduation, teachers and administrators said.
"My ultimate goal is that kids can get trained in our valley so we aren't sending them to other communities to get training when they want to live and work in this valley," Kleckler said. "Why can't we provide it here? There's no reason we can't. A lot of my students want to stay here. We need to provide some good education."
In Hayden, 111 students signed up to take welding this year, which is more than 70 percent of the high school student enrollment. Kleckler had space for 48 students.
Nearly 80 students signed up for the school's automotive classes, but Kleckler can take only 24 students. Seniors are given enrollment priority.
"We are not meeting the needs of our current student body," Kleckler said.
Meeting the needs of their diverse student bodies is a priority for all three districts, officials said, pointing to the creation of the Career and Technical Education committee as proof.
Hart said Colorado Mountain College strives to serve more than high school students. The college's primary vocational programs are hotel and resort management and ski and snowboard business.
The goal of the Career and Technical Education committee is to serve the adult populations in the valley, as well.
"We have a lot of community members who are very interested in terms of adult programs and retraining," Luppes said.
- To reach Melinda Mawdsley call 871-4208 or e-mail mmawdsley@steamboatpilot.com