4-H Banquet Awards
- Friend of 4-H: Dan Ellison
- Corporate Friend: Saddleback Ranch
- Goat exhibitor: Nathan Greenwall
- Small animal exhibitor: Ashleigh Muhme
- Swine exhibitor: Andy Morell
- Beef exhibitor: Kelsey Samuelson
- Horse exhibitor: Mackenzie Holmberg
- Sheep exhibitor: Jaelyn Whaley
- Treasurer: Brandon Yeager
- Reporter: Cole Carnahan
- Secretary: Shealynne Yeager
- Junior members: Belle Horn and Mariah Hoots
- Intermediate members: Hannah Barkey and Shealynne Yeager
- Senior members: Tyler Manzanares and Ashleigh Muhme
- Leader: Lynn Wilhelm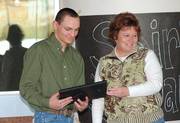 Steamboat Springs — Routt County 4-H members and friends celebrated a successful year at the annual Routt County 4-H awards banquet Sunday.
Members competed against more than 2,700 projects at this year's Colorado State Fair competition, and 14 local 4-H projects took top honors.
"The kids did really well at state, and I thought it was a great year," said C.J. Mucklow, Routt County extension agent. "Membership has been really good."
The commons area at Steamboat Springs High School was filled with many of Routt County's ranching families, some of whom have been involved with 4-H for three or four generations. The awards ceremony followed the potluck lunch.
"This is the culmination event and awards ceremony for the year for 4-H," Mucklow said. "We start all over after today."
Some of the awards members were given included awards for record books, outstanding exhibits, livestock judging and exemplary work.
Andy Morell, 18, was recognized for rewriting the weed project manual. It had been 30 years since the manual had been updated, and Morell did the update for his senior project last year at Steamboat Springs High School. It will be used by 4-H members across the state.
"That's never been done before - a 4-H book written by a 4-H member," Mucklow said.
Morell worked closely with extension agent Jay Whaley on rewriting the manual
Also at the ceremony, Hattie Yeager was recognized for her 35 years as a 4-H leader. Ray Manzanares was recognized for 15 years and Bernard Knott for 10 years.
Also, 4-H officers were installed, including Tyler Manzanares, who will be president.
The 17-year-old lives in Hayden and has been a 4-H member for nine years.
"4-H keeps me active and keeps me involved in meeting new people and making friends," Manzanares said.
The Routt County Fair is always the major event for 4-H members, but Manzanares said there are other events and activities throughout the year that they will start planning for.
He said the goal for next year is to "just have fun."