Do it yourself
To set up your own in-home tuning station, Harkness outlined the following basic essentials and general price ranges:
- Vise grip. You can try to rig one from a hardware store, but ski-specific vises are padded in the right places to provide a stable surface to wax. You need one to grab the ski in the middle with support props at tip and tail. From $100 to $160.
- Iron. Basic clothing irons may have temperature fluctuations leading to base inconsistencies and blistering. Will run you anywhere from $35 to $290 for ski-specific irons.
- Scraper. An acrylic plexi-scraper costs $6.50.
- Wax. Can run anywhere from $8 for a basic wax to $145 depending on the fluorocarbon content.
- File or Multi-tuner. Costs $25 for tuner set to specific angles, $45 for multiple angle file settings.
- A Scotch-Brite pad or diamond stone ($40) to deburr edges.
A full line of waxes and these supplies are available at Ski Haus and Ski and Bike Kare. At 3 p.m., Nov. 27, Ski Haus will host a tuning workshop with renowned American ski technician Willi Wiltz, call 879-0385 for details.
Don't get hurt
Off the couch precaution
If you haven't done any ski-specific fitness classes to prepare leg muscles for the season, SportsMed physical therapist Jodi Bringuel says not to expect a full first day on the mountain.
"People who push themselves for an entire day when their body is not ready can get fatigued easily and loose their technique," Bringuel said. "You don't want to jump from zero to 100. Maybe just go for an hour to an hour and a half your first day."
Bringuel advises that people who haven't been exercising regularly should warm up before skiing. This means walking around or shoveling snow to get your heart rate going for about 10 minutes. Follow this by stretching all your lower extremities' "biggies" - calves, quadriceps and hamstrings.
"Listen to your body and know your limits," Bringuel said.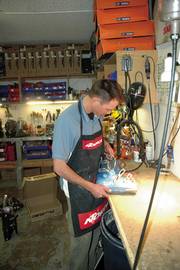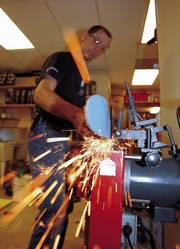 Steamboat Springs — Tim Magill puts about 60 hours of preparation into his skis before they touch the snow.
He already has three pairs sitting in a 100-degree "hot box" heating chamber, letting the wax slowly saturate the bases of the skis. Of course, the Steamboat Ski and Bike Kare ski shop manager needs a certain degree of performance if he hopes to break his top speed of 147 mph.
For skiers who aren't trying to reach terminal velocity at European downhill speed skiing events, Magill still believes that, like an oil change for a vehicle, regular tuning and waxing is the best maintenance a skier or rider can do to maximize performance. While many may forgo the initial tune hoping to float on endless loads of champagne fluff, Magill offered a couple of considerations for early season riding - you're going to want a little edge cruising down Heavenly Daze at the end of the day and you're going to want a little extra glide to get to those powder stashes first.
All tunes begin with base structure.
"(The base) can be concave where you're skiing on a set of rails or convex where it's like you're skiing on a bowling ball and the skis are swimming around not purchasing the edge," Magill said. "They need to be flattened."
Pete Dawson, general manager at One Stop Ski Shop, sends his skis over an 80-grit sanding belt first to leave the base fuzzy. Then he works to two lower-coarse grits to progressively smooth the base before finishing it with the stone grind to groove out the base structure.
Magill said the friction-breaking groove patterns act like the parallel channels dug into California's highways to release water surface tension. From there, he can grind "feathered linear" patterns into skis used by ski jumpers, who have no need for using the base to turn, to the light structured cross-hatch patterns for an average skier to turn with ease.
With a ground base, skiers and riders can opt to have a professional handle the next steps of tuning edges and waxing or can gather the tools to do it themselves.
While most skis typically come from the factory with a one-degree base and side bevel, Dawson said sharper side bevels are becoming more customary and a shop's edge sharpener can adjust to desired angles and can eliminate some of the inconsistencies of using a file system. He also suggested carrying a diamond stone file in your pocket to smooth out any minor edge scratches from hitting unseen rocks or logs.
Mike Benninghouen, manager at Powder Pursuits, suggests that snowboarders wanting a more forgiving ride consider a bigger base bevel that will keep them from digging in edges. Rail-sliding junkies should also think before hopping on with sharpened edges and may even want to consider a de-tune to dull out edges.
When it comes to waxing, too much is never enough for Phil White.
The Swix technical representative pointed out the flawed logic that beginning Alpine skiers have when avoiding wax. It increases your gliding abilities, but more importantly, makes for smoother, energy-saving transitions into turns.
While White said that the same waxes will generally work for both Alpine and Nordic skis, the base preparations are much different.
White outlined the glide waxing basics in a workshop on Thursday night at Ski Haus.
After brushing the base to remove oxidation and prepare it for wax, White recommended preparing bases by first doing a series of "hot scrapes," while the wax is still in a liquid state to clean and saturate the base. When it comes time to apply the "wax du jour," White said to choose wax types by gauging air and snow temperatures in the shade, as it's better to err on the side of cold.
"Cold waxes will run better as it warms up than a warm wax will if it cools down," White said.
He insists that any type of wax is better than nothing and that skiers have a big margin for error in the dry, high altitude Rocky Mountain climate. The three-step iron, scrape, brush routine should always be done tip to tail.
For daily specifics, the Swix Web site (swixracing.us) has detailed temperature charts, a wax wizard where you can plug in the components of air temperature, humidity and snow conditions and an updated board of White's waxing recommendations for Colorado's Nordic events, including all of Steamboat's Nordic Challenge Series races.
In terms of universal wax colors for the denser bases of Alpine skis and snowboards, Ski Haus tuner Jim Harkness said ironing in blue wax in the beginning of the season covers outdoor temperatures of around 20 degrees. Colder temperatures of around five to 10 degrees or colder that create sharper crystals and more abrasive snow take either white or green wax designed to fight friction. By the time spring rolls around, wetter snow and 30-degree temperatures require a pink or yellow wax that will help repel moisture.
Harkness recommended an early season wax and tune followed by a couple mid-season waxes to accommodate these changing conditions.