Winter bus service to begin
City Transportation Director George Krawzoff said the winter schedule for Steamboat Springs Transit bus routes will begin Wednesday, not today as was originally planned.
A need to finalize license requirements for city bus drivers caused the delay, Krawzoff said.
"This is the first time in my experience that we've had to postpone service," said Krawzoff, a veteran city official. "It's a delay, and we apologize."
For more information, call transit offices at 879-3717. View bus schedules on the Web through the Transportation Services link at www.steamboatspri...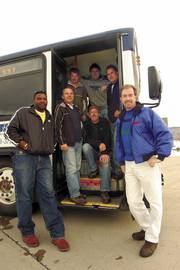 Steamboat Springs — Damion Graham is ready for the occasional red light on Lincoln Avenue.
Graham has driven a public bus in Kingston, Jamaica - a city of about 700,000 people - which is "very hectic," the 29-year-old said Thursday.
"In Kingston, we drive bumper to bumper," Graham said. "We can't keep up with the bus schedules because of traffic."
Steamboat Springs should be a welcome change.
Along with nine other international bus drivers, Graham arrived in Steamboat earlier this month to provide needed winter staff for Steamboat Springs Transit. The group includes two New Zealanders, a man from London who lived in Steamboat from 1987 to 2000 and has driven a school bus in France, and six residents of Perth, Australia.
A flag representing each international staff member's country hangs on a wall in the city's Transit Operations Center.
"We're a regular United Nations," Steamboat Springs Transportation Director George Krawzoff joked this past week.
Krawzoff said Steamboat first used international bus drivers in the winter of 2001-02 but discontinued the program because of a lagging economy that attracted more local workers. But lately, Krawzoff said, bus driver positions have been hard to fill, especially during winter.
"We've had great difficulty in the past few years recruiting a full staff, so we went back to this (international) program," Krawzoff said.
Tony Fogarty, 48, is glad Krawzoff made that choice. A resident of Perth on Australia's southwestern coast, Fogarty participated in the 2001-02 bus driver program and jumped at the chance to return to Steamboat. He drove a bus for Vail Transit last winter.
"I was just looking for something different," Fogarty said about his decision to travel. "It's an experience we can't get in Australia."
First snowfall
For Brett Arnott, also of Perth, the job means a new experience for his entire family.
Arnott, 36, came to Steamboat with his wife and two children, 4-year-old son, Cody, and 3-year-old daughter, Cheyanne. The children had never seen snow before their plane landed in Colorado.
"They're enjoying it so far," Arnott said with a grin.
"Definitely, the big novelty is snow," Fogarty added.
Arnott drives a public bus in Perth, which has a population of nearly 1.5 million.
Krawzoff asked Fogarty, who drives tour buses in southwestern Australia, to recruit drivers in Perth for a job in Steamboat. Fogarty said he selected Arnott and four other drivers - including Fogarty's wife, Louise - out of 80 to 90 applicants.
The selection process was difficult, Fogarty said.
"There are certain qualities a person has to have. First off, they've got to be a safe driver," Fogarty said, adding that any prior drunken driving citation is an automatic disqualifier. "The standard required by the city is very high, and I think that will be reflected in the service. The city has counted a lot on my judgment. I take it seriously."
The international drivers have been training on city buses since arriving earlier this month. In addition to Tony and Louise Fogarty and Arnott, the Perth drivers include Gavin Eva, 30; Barry Hull, 60, who came to Steamboat with his wife, Trish; and Greg Trainor, 35. Mark Wooler, 47, of London, also will drive a bus in Steamboat this winter. During his 13 years living in Steamboat, Wooler owned a restaurant called Gorky Park at the Eighth Street location that now houses Antares.
The New Zealand drivers are Roger and Lynda Henry.
Biscuits and cookies
For such a diverse group, learning to drive a bus in Steamboat involves cultural, as well as technical, training.
There are many linguistic differences - for example, in Australia an "entree" is what Americans call an appetizer, and a "biscuit" is what Americans call a cookie. Arnott noted that he stumped employees at a local Subway sandwich shop by asking for "capsicum" - or cayenne pepper - on his sandwich.
Of course, the most significant difference, especially for bus drivers, is remembering to drive on the right side of the road.
Fogarty said that during a recent training drive, one international driver waited at the Third Street traffic light for several minutes, wondering why the light would not change from red to green and allow him to turn onto Lincoln Avenue. Turns out, Fogarty said, that snow had covered the lane lines and the driver was waiting in the far left lane of the street - actually the right lane that oncoming traffic would use when turning onto Third Street from Lincoln Avenue. Traffic signal sensors did not know the bus was there.
"If any of the buses are driving on the wrong side of the street, you'll know it's the Australians," Fogarty joked.
Krawzoff and Transit Train-
ing and Safety Supervisor Donn Fowler emphasized that they have the utmost confidence in the abilities and competence of all the international drivers, who have undergone what Eva called a "very thorough and challenging" training process.
"This is a great group of people," Krawzoff said. "It's a privilege to have them, and I hope the community welcomes them."
Steamboat Springs Transit will have 39 drivers on staff this winter, Krawzoff said. Because of delays with finalizing licenses for some drivers - Graham had to travel to Glenwood Springs and Denver to address logistical licensing issues - the city's winter schedule for bus routes will begin Wednesday, not today, as was planned.
Graham said the short wait is worth it in order to experience a mountain town that is vastly different from his tropical home.
"Steamboat is a very nice working environment," Graham said, reflecting on the busy streets of Kingston. "The buses here run on time."