Game statistics
Steamboat Pueblo
9 First Downs 15
24-87 Rushes-Yards 54-286
8-22-2 Comp-Att-Int 4-6-0
85 Yards Passing 52
172 Total Yards 338
1-65 Punts-Avg. 2-31
3-3 Fumbles-lost 2-1
3-20 Penalties-Yards 5-25
SCORE BY QUARTERS
Steamboat 00-00-07-00¹7
Pueblo County 19-08-00-14¹41
SCORING SUMMARY
First Quarter
P , 11:08, Myles Martinez 63 run. (Garrrett Hannafious kick).
P, 8:38, JT Greenhood 21 run. (Kick fail).
P 4:12, Myles Martinez 4 run. (Run fail).
Second Quarter
P, 0 :55, Joe Pullara 1 run. (Myles Meserve pass from Greenhood).
Third Quarter
S 7:21, Michael Stewart 8 pass from Tanner Stillwell. (Ben DeLine kick).
Fourth Quarter
P, 11:07, Zach Martinez 1 run. (Hannafious kick).
P , 6:53, Zach Martinez 4 run. (Hannafious kick).
INDIVIDUAL STATISTICS
Rushing
Steamboat: Jay Hanley 16-62; Stillwell 3-6; Sean Forney 5-19.
Pueblo: Myles Martinez 16-146, 2 TD; Zach Martinez 18-84, 2 TD; Pullara 10-29; Greenhood 7-31; Frank Molinaro 2-3; Zach Sandoval 2-(-1); Marshall Stout 1-(-1).
Passing
Steamboat: Stillwell 8-21-1 85 yards, 1 TD; Westin Cofer 0-1-1.
Pueblo: Greenhood 3-5-0 39 yards; Levi Quandt 1-1-0 13 yards.
Receiving
Steamboat: Stewart 2-20, 1 TD; Houston Mader 1-15; Matt Lettunich 1-13; Cofer 1-(-2); Nigel Hammond 1-28; Hanley 1-(-8); Jeff Dawes 1-19.
Pueblo: Meserve 2-30; Pullara 1-9; Taylor Tortessi 1-13.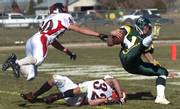 Handshakes would have seemed out of place. Instead, Steamboat Springs head coach Aaron Finch stood just inside the locker room after Saturday's 41-7 loss to Pueblo County in the second round of the Class 3A playoffs and gave every passing player a hug.
This year's Sailors weren't a team; they were a family.
"Ignore coaching. These guys have given me my best seasons in football as a player or a coach," Finch said. "All of us coaches view that the last two years, with this bunch in particular, have been the most fun football years we've had."
On Saturday, the Sailors didn't look like the team that won 10 games and the Western Slope League championship.
Normally sure-handed, the Sailors had five turnovers, including three fumbles. Usually sound on defense, Steamboat gave up more than 280 yards rushing.
Most of the season, the Sailors were able to move the ball on offense with relative ease. But on Saturday, Pueblo County limited Steamboat to fewer than 180 yards of total offense.
"You have those days where you come out and you aren't who you really are," Finch said. "... It's just one of those days where you've played well in practice, and (Saturday) just wasn't our day. It just wasn't to be."
The Sailors hadn't given up any first-quarter points all year. But on Saturday, the Hornets put 19 points up in the game's first eight minutes.
The Hornets scored on their first three possessions, including two rushing touchdowns - one from 63 yards out - by running back Myles Martinez.
Conversely, the Sailors turned the ball over on four of their first five possessions, including two fumbles and an interception.
After the teams exchanged punts in the second quarter, Pueblo County added a touchdown with less than a minute left in the second quarter to make the score 27-0 heading into halftime.
"They definitely got on us," senior Tanner Stillwell said. "We have never been down in the first quarter, so it kind of took our breath away a little."
The Sailors started to mount a comeback in the second half, when on their first possession they drove the ball 60 yards in 13 plays, capped off by Stillwell's 8-yard touchdown strike to Michael Stewart. On the drive, Steamboat converted twice on fourth down, including the touchdown pass.
On the ensuing Hornet possession, the Sailors stopped Pueblo County on fourth-and-one. The Sailors took over at the Hornets' 47-yard line. But the Sailor's momentum stalled when they couldn't convert on fourth-and-nine.
Pueblo County then scored on two of its next three possessions - both runs by Zach Martinez - to put the game away for good.
"The score didn't indicate how good of team Steamboat is," Pueblo County coach Jeff Wilson said. "When you turn the ball over, it's tough to win. We didn't, and it just happened to be our day."
While the players said the season ended too early, Finch said the team should be proud. Couple the league championship with road wins against league rivals Palisade and Rifle - both playoff qualifiers - and Finch said this season will be something the players will remember the rest of their lives. "I'll never forget this season," senior Aaron Hornstein said. "We had a great season, regardless of what happened (Saturday). Not many people win the league championship. We just ran into a tough team today."
Pueblo County will now play at home against Summit in the semifinals of the Class 3A playoffs. The time and date of the game haven't been set.