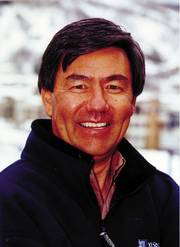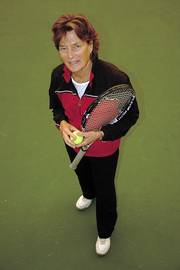 Steamboat Springs — Steamboat's Carol Baily and Hank Kashiwa have been selected for the Colorado Sports Hall of Fame.
They will be honored at the 43rd annual induction banquet on April 10 at the Denver Marriott City Center.
Bailey and Kashiwa will be among a distinguished list of inductees that includes Denver Broncos owner Pat Bowlen, Rockies slugging legend and cancer survivor Andres Galarraga, football and basketball referee Ben Dreith and Colorado native and Boston Celtics standout Scott Wedman.
Baily said she was surprised when she got the call last week.
"I had heard rumors that I was on the (selection committee) review, but this is the biggest honor an athlete can have in Colorado," said Baily, who had been inducted into the Colorado Tennis Hall of Fame's inaugural class in 2000.
Colorado Sports Hall of Fame CEO Tom Lawrence said Baily is only the 11th female inducted into the hall.
The Hall of Fame has selected no more than six athletes since 1965 for induction. The list of members ranges from John Elway and Peggy Fleming to Jack Dempsey. Lawrence said the only selection prerequisite is that the athletes "were born or performed most of their feats in the state of Colorado." The hall is in Gate No. 1 on the west side of INVESCO Field at Mile High.
Baily began her tennis career in Boulder under the guidance of Phyllis Lockwood, another one of the hall of fame's female members. Without indoor courts or a high school tennis team to play on, Baily honed a fast serve and volley game on the University of Colorado's outdoor courts, playing against mostly male opponents.
Baily graduated from CU in 1973 after spending three years at Arizona State, where she helped the Sun Devils to a pair of NCAA championships. Baily taught as a tennis professional and qualified for the main draw of the original women's Virginia Slims professional circuit.
Looking back on the days as a touring professional, Baily said her most defining memory was not the U.S. and Australian Open appearances, but a 1975 match in San Antonio against Billie Jean King. Despite losing the match, Baily will never forget being up three games in consecutive sets against her childhood idol.
In the same year, Baily moved to Steamboat, began teaching and continued touring on her way to capturing 22 national titles as well as 14 singles and 27 doubles state titles in Colorado's three major tournaments.
On the international stage, Baily won the world championship in Perth, Australia for women's 40s singles and doubles in 1991 and won it for women's 45s in both disciplines again in 1996.
The local presence of two-time world champion with a passion for teaching the game has had a lasting impact on Steamboat's tennis community.
"While a number of people were vitally important for the creation of The Tennis Center (at Steamboat Springs), none were more so than Carol," Tennis Center director Jim Swiggart said. "She has taught more people and brought a prestige to the community that people appreciate - a great ambassador for the community and the sport."
Longtime friend and fellow player Patti Asbury added to Swiggart's praise. She noted that, as a private instructor and former coach of Steamboat Springs high school girls team, Baily possesses a humble approach that brings students to the game and elevates their level of play.
Baily, 56, now lives near Oak Creek and continues to teach lessons at the Tennis Center.
"I love playing, and I love teaching," Baily said. "It's a microcosm of your whole life. You learn about fair play, sportsmanship and pressure - it teaches you a lot about life."
Hank Kashiwa
Kashiwa also was quick to mention how proud he was of Baily while voicing his own excitement about the induction.
"I'm thrilled to death to be honored, especially with this cast of characters," Kashiwa said.
The 1969 U.S. national champion and former Olympian lived in Steamboat from 1972 to 1981 and again from 1996 to 2001. Kashiwa has "hung up (his) microphone" as a CBS sports commentator for three Winter Olympics but has yet to hang up his skis. He now works as the vice president of marketing for Montana's exclusive Yellowstone Club.
Born in 1949 to a Japanese father and Irish mother, Kashiwa noted the personal significance of skiing for the U.S. team in the 1972 Olympics in Sapporo, Japan in front of his parents and finishing in the top 15 in downhill and giant slalom. He also believes what he accomplished on the pro circuit from 1972 to 1981 is becoming more meaningful as he gets older.
"(The circuit years) were the best," Kashiwa said. "Phenomenal days for the sport of skiing, taking world class skiing to one area at a time."
Kashiwa won the overall world pro title in 1975 and he stills keeps in close contact with many of his race circuit friends, including Steamboat's Jim "Moose" Barrows.
"Hank was built for pro racing," Barrows said. "He really excelled with his quick reflexes in the head-to-head format."
Barrows said Kashiwa pioneered the use of cutting-edge technology.
As one of the first racers to use rear-entry boots and honeycomb aluminum skis, Kashiwa's pursuit of innovation led him to found Volant Ski Corp. with his brother, Bucky, in order to produce the world's only steel-capped skis. The company has since been sold to Atomic.
Having raised his son, Hennie, in Steamboat and given him the opportunity to race, Kashiwa said he loves the town and will always consider it his second home.