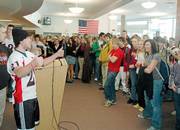 If you go
What: Steamboat vs. Pueblo County quarterfinal football game
Where: Pueblo County High School
When: 1 p.m. today
Steamboat Springs — Students, teachers and parents gathered at Steamboat Springs High School on Friday morning to cheer on the football team and cheerleading squad as each headed to their own postseason contests.
The football team plays Pueblo County at 1 p.m. today in Pueblo. The cheerleading team is competing in a regional tournament in Grand Junction. The tournament begins at 8 a.m.
"We wanted to give them a nice send-off," high school athletics director Richard Lee said. "It's really great that these kids have done so well."
During the brief ceremony, the cheerleaders performed a routine before giving way to the captains of the football team and head coach Aaron Finch, who spoke to the crowd.
"We just want to thank you guys for the support you've given us this year," Finch said.
The football team is 10-1 and playing in the quarterfinals of the Class 3A playoffs. They are one of eight teams battling for a state championship. The game can be heard on KRMR 100.5 or 107.3 FM.
The Cheerleading team is trying to win its fourth overall regional championship in the past six years. This also is the last season for cheerleading coach Kathy Jones, who is retiring at the end of the year to focus on her job as the Steamboat Ski Area's supervisor of the ski school.
- To reach Luke Graham, call 871-4229 or e-mail lgraham@steamboatpilot.com