If you go
What: Public hearing for Routt County's 2007 budget
When: 6 p.m. Tuesday
Where: Routt County Courthouse Annex, 136 Sixth St.
Call: County commissioner offices at 879-0108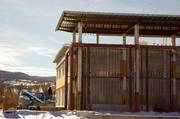 If you have a beef with Routt County's proposed 2007 budget, make your voice heard Tuesday evening.
Routt County commissioners and Routt County Finance Director Dan Strnad will host a public hearing to discuss budget issues at 6 p.m. Tuesday at the Routt County Courthouse Annex.
After an October presentation of a draft budget by county officials and weeks of revisions and meetings with county department heads, the 2007 Routt County budget is nearing completion and will be finalized next month.
Tuesday's hearing gives the public a chance to comment on the budget, which includes about $63 million in projected 2007 expenditures and $52 million in projected 2007 revenues. In 2006, Routt County will spend a projected $73.5 million while receiving a projected $64 million in total revenues.
This year's smaller budget is largely due to the loss of $6.7 million in federal funding for construction of the new terminal at Yampa Valley Regional Airport in Hayden. Ongoing construction of the new, $13.4 million Routt County Justice Center also will reduce projected expenditures in 2007. That project is scheduled for completion in September.
The airport terminal, justice center and reconstruction of Routt County Road 27, which runs from Oak Creek to U.S. Highway 40 east of Hayden, dominate the county budget and are a large part of what Strnad has called the county's "record-setting capital spending" on construction projects.
Strnad projects a 7 percent, or $837,000, increase in county property tax revenues in 2007, for a total of more than $13.2 million. The boost in revenue primarily will result from new construction and the reappraisal of taxable property, Strnad said. For homeowners, the property tax per $100,000 of "fair market value" will increase $5 in 2007, from $115 to $120. In other words, owners of a $400,000 home will see a county property tax increase of $20 next year.
Members of the public can view a copy of the proposed 2007 budget in the county accounting offices on the first floor of the courthouse annex, 136 Sixth St. in downtown Steamboat Springs.
- To reach Mike Lawrence, call 871-4203 or e-mail mlawrence@steamboatpilot.com