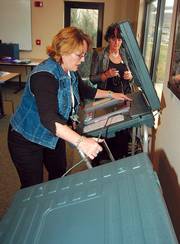 Steamboat Springs — Despite hours-long lines and several voting machine breakdowns, Routt County's votes were counted accurately in the Nov. 7 election, political and county officials said Friday.
Routt County Clerk and Recorder Kay Weinland, county elections supervisor Vicki Weber and representatives from the Routt County Republican and Democratic parties spent Thursday and Friday conducting a post-election audit and a "canvass," or thorough accounting, of the election.
A new polling center system and the lengthy ballot took some of the blame for the delays, but the primary culprit was the county's 35 new electronic voting machines, which were manufactured by Texas-based Hart InterCivic. Some of the machines malfunctioned at several polling centers on Election Day, primarily because of printer or paper-loading errors. The machines use paper to print a record of every ballot cast.
On Friday, Weinland said hand counting a random sampling of the paper ballots showed that the electronic machines counted votes "perfectly," without a single error.
"You never really know how the count is going to turn out until you do the audit, and it was flawless," Weinland said. "I was really pleased with the voting system."
Colorado Secretary of State Gigi Dennis sent Weinland the serial numbers of two randomly selected Routt County voting machines, which turned out to be one machine used at Yampa Town Hall and one used at the Fairfield Inn & Suites in Steamboat Springs.
Dennis asked Weinland to hand count votes recorded on those machines for two ballot issues, Referendum E and Referendum G.
Weinland counted the votes with Lynn Abbott, secretary of the Routt County Democratic Party, and Routt County Treasurer Jeanne Whiddon, treasurer of the Routt County Republican Central Committee. Weinland said the trio counted a total of 203 votes from the two machines.
The trio also hand counted votes from 69 absentee ballots, or 5 percent of the 1,475 absentee ballots cast in Routt County.
Abbott said the hand counts revealed one mistake - a human error. The electronic machines were perfect, Abbott said.
Weinland conducted the canvass with Abbott, Steamboat Springs City Clerk Julie Jordan, Republican Central Committee Chairwoman Jennifer Schu-
bert-Akin and observer Mag-
gie Whittum. Jordan is a Republican, and Whittum is a Democrat.
During the canvass, the group performed several checks of election statistics, such as matching the number of recorded ballots with the number of signature cards signed by voters before casting a ballot.
"It couldn't have gone smoother this morning," Schubert-Akin said. "As an accountant who's used to working with numbers, I'm very satisfied with these results."
Abbott and Schubert-Akin expressed confidence that this year's election delays won't be repeated in future years. Weinland said she plans to form a citizen committee that will guide future election policy. She already has begun talking with county commissioners about purchasing more voting machines. Weinland also is looking at other, larger sites for voting centers.