Past Event
Saturday, November 18, 2006, 9 a.m. to 5 p.m.
Holy Name Catholic Church, 504 Oak St., Steamboat Springs
All ages / Free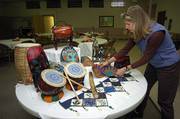 A severe drought and the prevalence of HIV and AIDS have taken their toll on the people of Duze, Swaziland, in Africa.
Fifty women who live in the village weave and sell colorful sisal baskets as their only source of income. Some of those baskets will be available at the Work of Human Hands Holiday Craft Bazaar at Holy Name Catholic Church this weekend.
"We are bringing some different items into the community to help with Christmas shopping and to do something good," organizer Diane Anderson said. "It's really nice to buy gifts that you know are helping Third World countries, and it's more personal than something from a department store."
The Holiday Craft Bazaar will feature homemade items from 70 developing countries. Each item was purchased at fair market value. The money earned by the artisans helps them feed their families, improve their communities and educate their children.
Ten percent of the proceeds will go to Catholic Relief Services, and 10 percent will go to the Steamboat Springs Pregnancy Resource Center.
For-sale goods will include baskets, musical instruments, masks, candles, jewelry, coffee and holiday items.
"We will have our famous advent calendars," organizer Carol Ward said. "And we will have tons of fair trade chocolate."
The Holiday Craft Bazaar was started by Julie Snook and Monsignor George Schroeder, and it has been so successful that the church had to double the size of its order from last year, Ward said.
This sort of event can be a humbling experience.
"We are so fortunate, especially our kids," Anderson said. "It makes you look at these people and how they struggle."
"It's remarkable what we don't have to do to survive," Ward added.