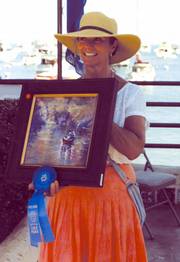 Steamboat Springs — Local plein-air painter Susan Jackson won first place and Best of Show in September at the 48th annual Catalina Island Festival of Art in California.
"I was so blown away," Jack-son said this week. "Suddenly I was with people who I used to take classes with, and then suddenly I am in the same galleries as them. It's really opened up those doors a lot."
About 100 artists were juried into this festival, and there was stiff competition.
"There were different categories of painters. Whether they painted from photographs, still life or imagination - with watercolors, oils, acrylic or pastels - a painting is a painting," Jackson said. "And they put us all in the same category."
Her winning painting was titled "Spiritual Encounter" and was painted on location at the Trinity River in Northern California.
"I started painting by the river and thought maybe I'd throw in a deer if nothing else," Jackson said. "But these guys came by me with a fishing boat, and I drew it on there as quickly as I could. It was just a matter of catching it, kind of like fishing."
Jackson has practiced plein-air painting for 10 years. Her mentor, Stan Sampson, also attended the festival. He took home second place.
Plein-air painting generally refers to the practice of painting outdoors and using the observed effects of outdoor lighting and the atmosphere.
"He said, 'OK, pumpkin, I am no longer your mentor,'" Jackson said. "He has never lost confidence in me in regards to my talent, and he's watched it grow."
Now Jackson feels as if she can sink her teeth into bigger and better things.
"It builds that confidence so I feel open to try some other bigger competition and see what happens. At least I will have no regrets," she said. "So I'll keep painting."
- To reach Allison Plean, call 871-4204 or e-mail aplean@steamboatpilot.com