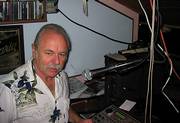 Steamboat Springs — Kip Strean is a strong believer in giving participants in his open mic night free reign to express themselves.
Most people don't abuse the privilege, he said.
"What they are doing is giving people an inside look at their personal life. It's the sincerest form of expression, and people want to give something of themselves."
Strean is starting a new Open Mic Night on Wednesdays. The weekly event will be at the Pirate's Pub in Jade Summit Restaurant.
Strean organized an open mic night at Geeks Garage for three and a half years, and he previously organized similar performances in Chicago. Strean said he provides a professional atmosphere.
"If you present it in that way, it is unbelievable how people rise to the occasion," Strean said. "People who were in their bedroom practicing three nights earlier become a professional performer."
Strean's open mic nights typically attract poets, musicians, singers, writers and thinkers.
"Everyone should try it at least once in their lives," Strean said. "It's about them experiencing the simple act of sharing whatever talent they do in front of an audience."
Strean often begins the evening by playing a couple of songs himself to get things rolling and make the first musician feel comfortable. He also hopes the earlier-than-usual start time for the open mic nights will increase participation. Strean thinks cabin fever will bring local performers out of their homes and onto the stage.
"As winter goes on, people gotta get out and do something," he said. "I'll get closet musicians who can't stand it and have to get out."