Christmas tree permits now available
Friday, November 17, 2006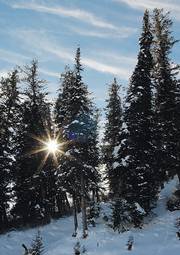 Steamboat Springs — For many Routt County families, choosing the perfect Christmas tree is as much about the experience as it is about the look of the tree.
As it does every holiday season, the U.S. Forest Service is offering tree permits for anyone who wants to venture out into National Forest land and cut their own tree.
The permits are available at the Medicine Bow-Routt Nat-ional Forest office at 925 Weiss Drive across from the Holiday Inn on U.S. Highway 40.
"It's a fun thing to do," said Wendy Holden, a visitor information supervisor with the Forest Service. "It's a tradition for many families."
About 1,200 Christmas tree permits are issued each year. Each permit is good for one tree, and there is a limit of five permits per household. Trees must be for personal use and cannot be resold. Fines will be issued to people caught cutting a tree without a permit.
Holden advised people to bring a tarp or sled to help them get their tree out of the woods without knocking off all its needles. A shovel also is a necessity because trees must be cut 6 inches or less from the ground. With all the snow that already has fallen in the mountains, most people will have to do a little digging to find where the tree trunk meets the earth.
Holden said the tree permits are good for the forest, too.
"It makes it easier for healthy trees because there is less competition," she said.
People should choose a tree that is growing in a cluster with other trees. Doing so often means finding a "Charlie Brown tree" or one that is less than perfect, Holden said.
There are some other restrictions for tree harvesting:
- Trees cannot be taller than 20 feet, and they cannot be cut within 100 feet of roads or within 200 feet of recreation areas.
- Some areas of the forest are closed to tree cutting, including the Fish Creek Falls area and land within the boundaries of the Steamboat Ski Area. People should contact the U.S. Forest Service for specific site information, including road conditions.
A couple of areas are particularly popular because access to the forest is easier.
"Rabbit Ears Pass is popular because you have eight different parking areas along the pass," Holden said.
The Steamboat Springs Forest Service office is open 8 a.m. to 5 p.m. Monday through Friday. For more information call 879-1870.
- To reach Matt Stensland, call 871-4210
or e-mail mstensland@steamboatpilot.com