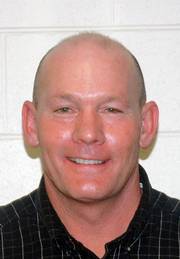 Routt County Sheriff's Office Sgt. Ray Birch will be Hayden's next police chief.
Birch was the top choice of a committee of Hayden residents involved in the search. The Hayden Town Board affirmed the committee's decision Monday.
"He actually has kind of a soft-spoken voice, which we're used to, and he is a great professional and a great person," Hayden Town Manager Russ Martin said Wednesday afternoon. Martin said both the Town Board and the selection committee were "pretty unanimous in their decision.
"We're getting someone that is very well-qualified for this job," he added.
Birch, who lives in Hayden with his family, said he's looking forward to starting his new position Dec. 11.
"The first step is to just get as much information as I can," Birch said Wednesday night. "We've got a good core of experienced officers that work for the town of Hayden. They have outstanding ideas, and my goal is to get in and listen to them and to provide the mentorship, as the chief of police, that I think the community wants."
Martin said Birch stood out for a couple of reasons.
"We wanted to make sure we had someone that can communicate with kids of all ages," Martin said. "(And) he stressed his ability to mentor the officers."
Hayden has four full-time police officers that are equal in rank, but that is likely to change as the town grows.
Birch said being visible in the community is crucial, and there are challenges ahead for Hayden as it grows.
"Helping a town grow and keeping a community safe - that's paramount to me," he said.
Birch said he has enjoyed working at the Sheriff's Office, but the chief position was too good an opportunity to pass up.
"Being a cop 25 to 30 years, you have to look at where you can do the most for your career and your community," Birch said.
Binch has served multiple tours in the military, including two tours in Iraq. He worked at the Pomona Police Department in Los Angeles County for 17 years before moving to Colorado. He worked at the Clear Creek Sheriff's Office and served as the 14th Judicial District's chief investigator. After returning from Iraq in March 2005, Binch was hired as a sergeant with the Routt County Sheriff's Office .
Birch ran for the Republican nomination for Routt County sheriff but lost to Steamboat Springs police Officer Garrett Wiggins in the Aug. 8 primary.
Other finalists for the Hayden chief position were Routt County Undersheriff Dan Taylor and former Rangely police Chief Flint Chambers.
Taylor also lives in Hayden, and has said he planned to leave the Sheriff's Office when sheriff-elect Gary Wall takes office.
"Both of them were both hireable, and we were pleased with both of them," Martin said the finalists. "I don't think we could have gone wrong. To have a community the size of roughly 2,000 people and to have this qualified of an applicant pool, and have this qualified of a chief, we are very fortunate."
Birch replaces former Hay-den police Chief Jody Lenahan, who retired Oct. 6 after being chief for 27 years. Birch will be paid an annual salary of $55,000, which is $7,000 more than Lenahan made.
"As people get to know him, they will get to know he is the ultimate professional," Martin said.
- To reach Matt Stensland, call 871-4210 or e-mail mstensland@steamboatpilot.com