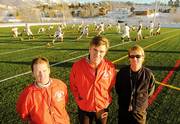 Steamboat Springs — It would have been easy for the assistant coaches to criticize.
It would have been easy to point fingers about the Sailors' 0-5 start in 2004. Under then first-year head coach Aaron Finch, it would have been easy to wonder how a program that advanced to the state semifinals the year before under former coach Mark Drake couldn't seem to win a game.
But, instead, the coaching staff of Lonn Clementson, Mike Appel and Jerry Stabile stuck by the first-year man.
"If you would've come into the (coaches') office, you would have thought we were 5-0," Finch said.
That year, the Sailors finished with four straight wins and a 4-5 record. Finch said this year's team wouldn't have experienced its current success if the assistant coaches hadn't stuck with the players, just like they did for him two years ago.
"You're only as good as your assistant coaches," Finch said. "This is a unique staff. Each of us knows where we fit in. We all have tight relationships with the kids, and, come game days, we don't have to explain what each coach has to do - it just happens.
"We like winning, and part of that job is these coaches putting the players in a position to be successful."
It's that sense of chemistry among the coaches that make the Sailors successful, they say. Clementson and Appel coached together in Steamboat during the 1996 season. Stabile came the following year.
"Chemistry is huge," Stabile said. "I'd say it's almost more important with the coaches than with the players. If you have it in the coach's office, then the players will have it. Everything starts at the top and trickles down."
A common thread among the coaches has been defensive experience. Clementson, Appel and Stabile played defensive back in college and have helped lead a defense that has given up only nine points a game this year. When Finch took over the program, he suggested to Clementson that the team switch to a 3-5-3 base defense. Instead of questioning it, Clementson perfected it.
"It's fun. With this, it really opens up a lot of things you can use with different opponents," Clementson said. "It's very versatile. Our kids are bright and have a ton of energy to run it."
Along with other assistant coaches Steve DeLine, Peter Perry and Matt Tredway, Clementson, Appel and Stabile shy away from any credit. When it comes to the Sailors' success this season, they said, most of the credit should go to the players.
"Part of coaching football is seeing the players develop," Appel said. "We've seen a lot of the players go from boys to men."
Said Stabile, "Really there's no one with an ego. Everybody is on equal ground, and there's no strife. They all co-exist."
Sounds a little like the coaching staff.