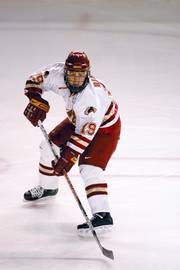 Steamboat Springs — Ryan Dingle has come a long way since his days playing as a high school sophomore on the Steamboat Braves.
The 22-year-old center for the University of Denver recently was named the Red Baron Western Collegiate Hockey Association Offensive Player of the Week for Nov. 14-20.
The honor had much to do with Dingle's efforts during No. 11-ranked Denver's back-to-back wins against 2006 national champion Wisconsin. In front of a Saturday night Madison, Wisc., crowd of more than 15,000 people, Dingle netted two goals and the game-winning assist as the Pioneers won, 4-3, in overtime to complete the series sweep over the Badgers. DU beat Wisconsin, 2-0, on Friday.
"The fans are absolutely crazy," Dingle said about the Madison crowd. "It's nuts. Definitely my favorite road series."
Dingle now leads the seven-time NCAA champion Pioneers (6-4-0 overall
and 4-2-0 in WCHA) in scoring with 11 points in 10 games.
Dingle's passion for the sport led him to transfer from the Lowell Whiteman School to Battle Mountain his junior year in high school to play on the AAA Vail Avalanche. He graduated from Iowa's Valley High School the next year to play for the Des Moines Buccaneers.
Denver head coach George Gwozdecky said he brought Dingle onto his squad as a very mature freshman. Dingle played three years of Junior-A hockey for the Buccaneers and the Tri-City Storm in Kearney, Neb.
Dingle's presence helped him stand out on the Pioneers penalty-kill unit as the Pioneers made their 2005 national championship run.
As a sophomore, Dingle was put on the wing "in more of a role that required him to be an offensive contributor," Gwozdecky said. Dingle answered by winning his team's most improved player award and finishing third in the nation in power-play goals and game-winning goals, leading the Pioneers in both categories. He also led the team in overall goals and short-handed goals.
This season Gwozdecky says Dingle has become an offensive weapon who can play "in every role imaginable," bringing energy to the power play and powerful checking to the penalty kill unit.
After Wednesday's practice, Dingle said by phone that the transition means he has to be more defensive-minded in his approach, but he feels comfortable in the position.
As a junior, Dingle is also beginning to realize his role as a team leader.
"(Starting linemate Rhett Rakhshani) is four years younger than me," Dingle said. "I have to show the kid a few things."
On a squad expected to return to the playoff championship bracket after missing it last season, Dingle knows he will have to respond to plenty of pressure and expectation, especially considering he was selected as a preseason All-American.
"Pressure is what the whole game is about," Dingle said.
DU kicks off it first conference home series against Michigan Tech at Denver's Magness Arena at 7:37 p.m. Friday night.