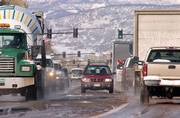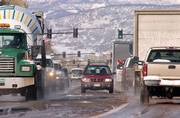 Steamboat Springs — City officials responded Tuesday night to potential increases in air pollution from the booming natural gas and oil exploration industries in Northwest Colorado.
The Steamboat Springs City Council approved a resolution to support and advocate for enhancements of proposed state regulations on emissions of "volatile organic compounds" and smog resulting from natural gas and oil exploration. The Air Pollution Control Division of the Colorado Department of Public Health and Environment is proposing statewide regulations for emissions linked to natural gas compressor engines, drilling rigs and storage tanks - a position the council supported Tuesday night.
The resolution also supports the division's general efforts "to proactively address air pollution problems throughout the state of Colorado," which could eventually include applying Front Range vehicle emissions standards to the Western Slope.
The Community Alliance of the Yampa Valley and the Western Colorado Congress, a regional nonprofit organization with 3,000 members supporting environmental concerns, brought the resolution to the council.
The Routt County Board of Commissioners unanimously approved a similar resolution Oct. 26. That resolution supports, but doesn't enhance, the proposed regulations.
The City Council approved the resolution with a 5-2 vote. Council members Paul Strong and Loui Antonucci voted against the resolution, citing a lack of scientific facts defining how, and to what extent, the natural gas and oil industries increase air pollution.
"I'm not against cleaner air," Antonucci said. "But we really don't have any information in front of us to base these assumptions on."
City Council President Ken Brenner said he saw the "enormous impacts" of industrial pollutants during a recent trip to Garfield County.
"They're very, very concerned about this," Brenner said. "We know that we will see significant growth in the oil and gas industry - and we are definitely downwind of Moffat and Garfield counties."
Antonucci and Strong also cited possible "unintended consequences" of the resolution, such as increased vehicle tests or sweeping, generalized regulations.
"I have yet to see any unintended consequences of cleaner air," council member Towny Anderson countered.
Also Tuesday, the council:
n Discussed possible revisions to the city's Planned Unit Development, or PUD, ordinance relating to "big box" retail stores, in preparation for possible future approval of a revised ordinance that could increase the public benefit requirements for developers seeking variances to city codes.
n Met with the Citizens for a Recreation Center, a community group attempting to place a bond issue to fund a new recreation center on the November 2007 ballot, to discuss possible timelines and challenges for the project.