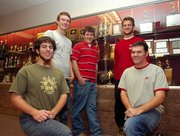 Steamboat Springs — Alex Centner, Tanner Stillwell, Tucker Campbell, Lane Shipley and Jace Bonner have experienced both extremes of high school football.
During their freshman year, the five were called up from the junior varsity to the varsity level to help prepare for the playoffs. That team fell in the semi-finals to Florence, but the foundation of what it takes to be successful was laid.
A year later, under then-first-year head coach Aaron Finch, the team struggled, starting 0-5 before winning four in a row to finish 4-5.
The difference and the lesson learned?
"Our freshman year, those guys showed us how well they took care of each other," Shipley said. "It showed that they took care of everybody."
As the only four-year lettermen in football, the five embark on the second round of the Class 3A playoffs, where they'll be looked at for leadership. All five have played together since middle school. All five also know, come Saturday at 1 p.m., it's win or go home.
"This year, we've been gelling better than anytime before," Bonner said.
But the "win or go home" mantra hasn't seemed to faze any of the five. Although all admitted they'll be nervous Saturday, they said it will be a good nervousness.
"When I was a freshman, and we lost to Florence, I was like, 'I've got three or four years ahead of me,'" Centner said. "Now, this might be the last game I play football. Really, it just makes me want to go out there and hit people harder."
Finch said it's rare that five players letter all four years in a sport. As the junior varsity coach four years ago, Finch recommended the boys practice with the varsity squad.
"Now it's sudden-death and a once-in-a-lifetime opportunity," Finch said. "You work hard in practice, and part of our jobs as coaches is to get them ready. But it sure helps to have those five guys, and the rest of our seniors show that great leadership."
All five of the seniors admit their focus is on Saturday and the task at hand, but they think playing well and giving the team the best shot to win is only part of their job. They've been to the state semi-finals twice in three years, with a possible third berth on the line Saturday, all five said it's equally as important to pass the work ethic down to the underclassmen.
"It's really just being role models," Stillwell said. "Everyone wants to go out there and play well, but you are remembered for who you are off the field."
Said Finch: "It's really fun to be part of their athletics and see them grow. But the cool thing is seeing them get to be great people."
When the game starts on Saturday, Steamboat will have five four-year lettermen lead them on the field. Win or lose, the same five will lead the team off the field.
- To reach Luke Graham, call 871-4229
or e-mail lgraham@steamboatpilot.com