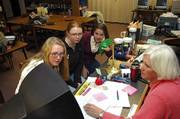 Steamboat Springs — Financing a college education is becoming increasingly difficult, but Gayle Dudley wants to help.
Dudley, the career/college counselor at Steamboat Springs High School, will discuss the financial aid process and help steer parents and students in the right direction during several upcoming seminars.
The first seminar is at 2:15 p.m. today at the high school. All guests must sign in at the front office.
The seminar will provide an overview of the various types of financial aid available to students who plan to attend universities, community colleges, and trade and tech schools.
"You need to have that discussion," Dudley said. "Who is going to pay for it, and how are they going to pay for it?"
The government expects parents or students to pay a majority of the college bill, Dudley said, but there are ways to secure help. Most students visit Dudley without any payment plans. In previous years, she disseminated information through the Senior Odyssey class, but that class is no longer required at the high school.
"I'm having a hard time getting them in here," Dudley said.
The "Financing a College Education" seminars will give parents and students guidelines and information about when and where to begin the financial aid process.
The other seminars are at 7 p.m. Nov. 28 and 2:15 p.m. Nov. 29. Both seminars are at the high school.
"My goal is for people to leave the seminars with more questions," Dudley said.
The seminars will support the information Dudley will provide at Financial Aid Night. That workshop is from 7 to 8:30 p.m. Dec. 4 at the high school.
During Financial Aid Night, a panel of experts will give specifics about loans, scholarships and financial guidelines.
Financial Aid Night is open to students of all area schools. Parents are also encouraged to attend.
"(College) debt is your debt," Dudley tells high school students. "This is not your parents' debt."
But that doesn't mean parents should ignore the financial aid process and pay attention to the college application schedule.
According to a New York-based director of college savings plans, "Most parents are about as prepared to meet college costs as college freshmen are to do their own laundry."
The average cost to attend a public school is $54,882 for four years. The average cost to attend a four-year private school is $131,361.