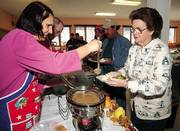 Steamboat Springs — The Routt County United Way began its involvement in the Community Thanksgiving Dinner more than a decade ago and executive director Mark Andersen doesn't see an end in sight.
Andersen returned to the executive director role this year after former executive director Millie Beall stepped aside.
"It was always an experience that made an impression on me," Andersen said. "It was wonderful to be involved, and I'm looking forward to being involved again."
The Routt County United Way and Wells Fargo Bank are sponsoring the Community Thanksgiving Dinner from 2 to 5 p.m. Nov. 23 at the Community Center.
The dinner, which is open to the public, is more than a week away, but United Way needs volunteers and food donations.
"The success of the dinner is because of many, many people in the community," Andersen said.
Dinner organizers are looking for donations of traditional prepared food, such as turkey, mashed potatoes, stuffing, dinner rolls, vegetables and desserts.
Volunteers are needed to serve and help on Thanksgiving.
The Girls Scouts traditionally help decorate the Community Center, and local youths provide music. Restaurants provide supplies and equipment, and Alpine Taxi provides transportation for people within city limits.
"We need people volunteering, and, most importantly, people who donate food," Andersen said.
Hundreds of people of all ages gather in the Community Center each year, ranging in age from small children to Colorado Mountain College students unable to go home to senior citizens who have made the Community Dinner a tradition.
For more information and to volunteer for the event, contact Routt County United Way at 879-5605. To donate prepared food, please call Lynn Bear at Wells Fargo Bank at 879-0550.