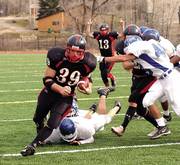 Steamboat Springs — Steamboat Springs football coach Aaron Finch said in playoff football it's probably more important to finish games fast than start fast.
But with the way the Sailors have opened up games this year - they've outscored their opponents 88-0 in the first quarter - Finch said the Sailors starts in opening quarters have keyed them to a 10-1 record and the second round of the Class 3A playoffs.
"The first quarter is really indicative of how good our defense is playing," Finch said. "Coach (Lonn) Clementson puts together a great game plan and gets those kids ready to play. But (the point differential in the first quarter) is not something we really talk about. But it sure is easier to play with the lead."
In the last three games against Rifle, Battle Mountain and Fort Lupton, Steamboat has jumped out to leads of 7-0, 9-0 and 14-0 in the first quarter.
"I think our focus is going from a good team to a great team is playing the whole game like the first quarter," Finch said. "It always helps to get out to a good start."
Steamboat will need another good start when they play Pueblo County in the second round of the playoffs. Finch said he wouldn't know a lot about Pueblo County until he watches film. What he does know is Hornets finished as the No. 2 seed in the South Metro League - along with the Western Slope, one of the toughest leagues in Class 3A.
"They're the one team that had a good run at top ranked Alamosa this year," said Finch of Pueblo County's 21-20 loss to Alamosa earlier in the year. "It's going to be a true test. They very well could be the best team we've seen all year."
The Hornets finished the year 8-2 after finishing 1-9 in 2005. Their only losses this year came against 4A Pueblo West and Alamosa. They also have a 7-6 victory against last year's state champion Florence.
"They were a very young team last year," Finch said. "It sounds like they like to run the ball and they play great defense. Obviously when you make that kind of turnaround, everyone is feeling good about themselves. We'll have our hands full."
A game time and day hasn't formally been set, but Finch said after talking with Pueblo County coach Jeff Wilson, he thinks the game will be at 1 p.m. on Saturday in Pueblo.