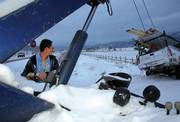 Steamboat Springs — By 4 p.m. Monday, Steamboat Springs police had responded to 16 weather-related car accidents.
"Every one can be attributed to drivers driving too fast for the existing road conditions," said police Capt. Joel Rae, adding that no one was hurt. "It's just the right temperature - that 30-degree melting, freezing point - where roads are the slickest."
Monday's weather created havoc for drivers throughout Routt County, and with another winter storm forecast for Monday night, police were anticipating more accidents.
A little more than 4 inches of snow fell during the day Monday between downtown and the mountain. Between Friday and Monday evening, the Steamboat Ski Area reported 16 inches of new snow, with seven inches of that falling Monday.
Trucks spread scoria rock on slick roads across town for traction, and the plows were out all day.
"That does very little when you get as much snow as we do at this temperature," Rae said.
Routt County Sheriff John Warner's advice was similar to Rae's.
"People are driving way too fast," Warner said. "Slow down. Even with good tires, people just need to slow down."
He said deputies responded to about five accidents and assisted the Colorado State Patrol with a rollover on Routt County Road 129.
"No one was hurt, thank God," Warner said.
Colorado State Patrol Sgt. Jim Copley said troopers responded to at least five accidents, but there were only minor injuries.
"It's typical for the first major snow of the year," he said.
A couple of trucks jackknifed on the Rabbit Ears Pass he said, where nine inches of snow fell Monday.
"Visibility was poor, and it was icy and snowy," Copley said. "All of them were people driving too fast. Slow it down, take it easy and allow for more time."
Rae said drivers need to be more cautious.
"You've got to assume that the road is going to be completely slick," Rae said. "Know that if you have to stop, that you have to allow that safe distance to stop."