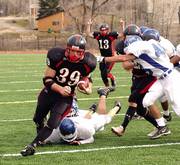 Steamboat Springs — Steamboat Springs will face Pueblo County in the second round of state football playoffs at 1 p.m. Saturday in Pueblo.
Officials from the two schools settled on the quarterfinal game schedule Monday morning. The game will be played at Hornets Stadium, just east of Pueblo.
Steamboat Springs athletics director Richard Lee said Pueblo County was awarded home field because of the Colorado High School Activities Association's home-team formula. The "formula" awards home field to the school that has had fewer postseason home games.
A coin flip determines the site if both teams played first-round home games. Having won the coin toss with Sterling, Steamboat would have hosted the quarterfinal had Sterling beaten Pueblo County.
But the Hornets' 28-14 first-round win against Sterling now means a 274-mile trip, each way, for Sailors fans.
Lee said that a plan for a student and fan bus had not been confirmed.
The football team will leave at about noon Friday to allow the players a late afternoon practice before spending the night in Colorado Springs, Lee said.
Steamboat Springs is 10-1; Pueblo County is 8-2.
The cost to attend the game is $7 for adults and $5 for students and children. Student activities passes will not be accepted, only CHSAA media and Colorado Coaches Association passes.
Pueblo County athletics director Cherie Toussaint said she will open a separate side entrance for Steamboat fans to access the visiting section stands on the south side of the stadium.
Toussaint estimated a turnout of 4,000 fans, as many as showed for Pueblo County's South Metro Conference showdown with Alamosa on Oct. 20.
To reach Hornets Stadium, take Interstate 25 south to exit 100A in Pueblo. Head east on U.S. Highway 50 toward La Junta for 6.5 miles. Take a right on Baxter Road, and go two miles to US-50 BR. Turn left, drive 1.5 miles to 35th Lane and turn left into the high school.
- To reach Dave Shively, call 871-4253
or e-mail dshively@steamboatpilot.com