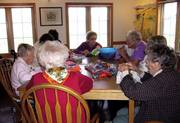 Bring together 12 senior citizens, 18 high school honor students and nearly 100 costume-clad children and you have one heck of a Halloween party.
This year's Halloween bash at The Haven Assisted Living Center was a big success thanks to members of the Hayden High School Honor Society, Haven staff said.
The students, who adopted the party as a community service project, organized games and decorations and spread the word about the event throughout the community.
"Involvement from the high school kids really made the party," Haven Activities Director Kathy Lozinsky said. "They were so enthusiastic."
Twelve of 18 Haven residents, some donning witch hats and colorful wigs, took to the center's main room to pass out candy and watch children fish for goody bags, toss rings onto pumpkins and stroll in a cupcake walk promenade.
Some residents even braved the balloon stomp.
"I got stepped on a couple of times," said Barbara MacMillan, who was among residents who said they didn't mind missing their favorite TV show, "Dancing with the Stars," to attend the party.
Other Halloween activities included a mini-haunted house with a skeleton borrowed from the high school and a cupcake decorating station, which proved one of the more entertaining events for the adults in the crowd.
"Some of those little ones that have never been turned loose with frosting and candies just had a blast," Lozinsky said.
The Honor Society and Routt County Council on Aging also contributed candy and Hayden staff Arline Lewis and Ruth Herod baked 200 cookies, ensuring no child left without a sugar high. Haven residents decorated the cookies and stuffed goodie bags the day before the party.
Last year was the first Halloween party at The Haven, but it attracted only a handful of children. Staff, hoping for a better turn out, sought the high school students' help this year.
The students facilitated nearly every aspect of the event, from the planning to clean up. "My favorite part was seeing the residents' faces," student Jennifer Epp said. "They were really excited to see all the kids that showed up."
Involving children in Haven activities - and creating an intergenerational atmosphere - helps bring out residents' lighter side, Lozinsky said.
"It's amazing. You can have some of the more serious residents that hardly ever smile and you bring in kids and they grin from ear to ear," she said.
Intergenerational activities also help make children more comfortable around the elderly. Some children adopt residents as their surrogate grandparents, making regular visits and exchanging letters with residents, Lozinsky said.
Tamera Manzanares can be reached at tammarie74@yahoo.com.