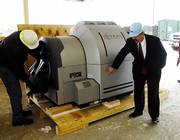 Hayden — Passengers at Yampa Valley Regional Airport in Hayden can feel a little more at ease.
On Monday, workers at the airport unloaded crates containing three, $350,000 Reveal CT-80 baggage screening machines that are part of an automated system for detecting explosives.
The airport is undergoing a 23,500-square-foot expansion.
The Reveal machines are smaller and less expensive than the machines that are common in the lobbies of airports across the country. Passengers are usually asked to take their bags to the screeners after being ticketed. The Reveal machines are in use at other small and medium airports across the country, but YVRA will be the first airport in the United States where the machines are installed as part of a conveyor system.
"Security in Steamboat Springs had to be commensurate with the security at any airport in the United States," said Rene Dhenin, federal security director for the Transportation Security Administration in Grand Junction. "The chain is only as strong as its weakest link."
TSA purchased the machines. Dhenin, two other TSA officials from the Grand Junction office and local airport officials were on site Monday to make sure the machines got unloaded and installed without being damaged.
"In terms of our ability to move people and their bags, this is a huge step forward," said YVRA Airport Manager Dave Ruppel. "We're going from doing everything by hand, to having state-of-the-art gear. It makes it a lot more efficient, and it makes it a lot safer."
The manual method currently used involves swabbing the bags and then analyzing the sample for traces of explosives. Between 30 and 40 bags can be screened in an hour using that technique. The three machines still require human operators, but they will be capable of screening about 225 bags per hour.
The machines use "some of the latest technology available," Dhenin said.
He said the $1 million price tag is justifiable because YVRA has a lot of traffic and moves a lot of bags during the winter. The machines save on labor and screen bags more quickly.
The new machines and conveyor system will take several weeks to install, Dhenin said, and then a couple of weeks will be spent training screeners.
"We've been working with the airport for a long time on its new terminal expansion," Dhenin said. "The new baggage room created an opportunity for the airport and the TSA to put in the automated system."