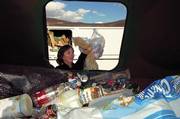 Steamboat Springs — Yampa Valley Recycles honored a group of five businesses and organizations during a presentation at Tuesday's Steamboat Springs City Council meeting.
Waste Management was named Municipal Recycler of the Year; the Steamboat Springs Middle School was named School Recycler of the Year; ResortQuest was named Multi-family Recycler of the Year; Alpine Bank was named Business Recycler of the Year; and the post office was named Recycler of the Year.
The awards were a lead-in for Wednesday, which the Routt County Commissioners proclaimed as America Recycles Day in Routt County.
"About 30 percent of the country's waste volume is recycled, (which is) up from six or seven percent in the 1960s," said Mike Zopf, director of Routt County's Department of Environmental Health. "Locally, we're at about seven or eight percent."
The commissioners also recognized the volunteers and employees of Yampa Valley Recycles for their "tremendous dedication and ongoing efforts to expand, promote and educate the public on recycling in Yampa Valley," the proclamation reads.
Waste Management, which has provided recycling in Steamboat Springs for more than 15 years, has offered a curbside recycling program for nearly 12 years. It is currently piloting a single stream curbside-recycling program that will allow residents to recycle more items, such as plastics, office paper and paperboard, with less sorting.
To further encourage citywide recycling, Waste Management provides reduced rates for city properties and the Steamboat Springs School District.
"They're expanding their recycling offers," said Craig Shifter, chairman for Yampa Valley Recycles. "Their volume is going to jump quite a bit."
The green team at the middle school began the recycling program at the school and provides all the recycling needs of the building.
The recycling program at ResortQuest is employee driven. The program has nine volunteers who collect at two centers. The recyclers also provide recycling for guests who request it.
Alpine Bank has created a corporate and local green team in each branch. Their goal is to sustain and preserve the natural environment. They have measured water and energy consumption and waste production to set corporate goals based on the findings.
Examples of those goals include a 50 percent reduction in waste by 2008, a 20 percent reduction in paper usage by the end of 2006, and reductions in water and electrical usage.
In addition, Alpine Bank received an ISO 14001 certification, which is a standard of excellence for environmental management.
The post office, in coordination with the city's Parks, Recreation and Open Spaces department and Waste Management, has been offering unwanted mail recycling since June. It is expected trash has decreased by nearly 50 percent since June, according to Yampa Valley Recycles.