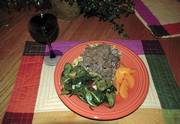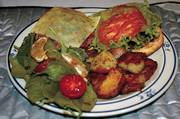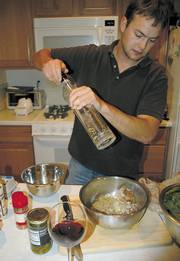 Hines elk burgers
1 pound Elk
1 clove garlic per pound, cut finely
1 slice white bread
milk
1/4 to 1/2 onion, diced finely
splash of Worcestershire sauce
1 egg
1/4 t. Italian seasoning
1/4 t. red pepper flakes
dash of fresh cracked pepper
dash of salt
1/4 c. fire-roasted red peppers, diced finely
To taste:
2 T. barbeque sauce or tangy hot sauce
Directions:
Soak slice of bread in bowl of milk. Combine elk, garlic cloves, onion, Worcestershire sauce, egg, Italian seasoning, red pepper flakes, cracked pepper, salt, fire-roasted red peppers in a large bowl.
Mix together with hands. Pour sauce of choice on mixture and work together with hands.
Cut meat mixture into squares and shape into patties. Grill or bake. Top burgers with cheese, pepperjack is recommended, and serve.
Courtesy: Brendan Hines
Brendan Hines bends over the grill, putting his nose within six inches of the sizzling burgers.
"That's the best part about elk, how good it smells," Hines said.
Northwest Colorado is in the midst of the 2006 hunt. Some hunters use the fall season to shoot an animal to mount, and other hunters use their licenses to kill big game for the meat.
"In a group, you may find guys who hunt for horns and guys that come with them who hunt for meat," said Randy Hampton, spokesman for the Colorado Division of Wildlife. "I think hunters go through stages. Over time, what we find, is hunters start looking for different things."
Hampton, who prefers the taste of moose to all other big game, said everyone has different preferences and preparation tips. Some hunters look for young animals. Others seek out a doe or a cow for its meat.
A portion of the hunting population prefers to eat the meat fresh, while others age it.
Sherry Perez, a butcher with the Steamboat Meat and Seafood Co., said tenderloin and backstrap - strips of meat along the animal's back - are the most popular elk cuts. Sirloin and round steak also are good cuts of big-game meat.
Game meat is considered red meat, but it has a distinctly different flavor from beef. Like beef, game meat can be prepared in a myriad of ways, from burgers to tenderloins with gourmet sauces.
"Go into premier restaurants, and there are always game meats on the menu," Hampton said. "It can be a very high-end dining experience."
It also can be a healthy dining experience.
Elk is comparable to chicken in terms of protein, fat and cholesterol, said Pam Wooster, lead dietician at Yampa Valley Medical Center.
It's higher in monounsaturated and polyunsaturated fats, which are good for the body.
"It's a very lean meat," Wooster said.
In general, wild game meat is less tender because the animals exercise more and produce less body fat, which is why Karen Massey, family and consumer science extension agent in Routt County, suggests tenderizing wild game.
She suggests cooking game slowly using moist-heat methods such as crock pots, braising or oven cooking bags. Tenderizers and sauces also can add needed moisture, while adding flavor.
Marinades containing acids (citrus juices, vinegar) or alcohol work well for game because they break up connective tissue, add moisture and can disguise the more "gamey" taste common in antelope and deer.
Big game should be handled with care like all raw meats. Discard marinades and all other juices or sauces that come in contact with blood from raw meat, but big game is like red meat in that it does not need to be cooked completely to be eaten.
Hunting season runs through December with the later seasons. Hampton said things are going "pretty well" in the 2006 hunt, especially for deer.
"Elk has been slower because it has been warmer," Hampton said. "We did well with elk in the first season. The second season it snowed to start and then warmed up on the tail end of the third season, which we (wrapped up Thursday)."
The fourth season begins Wednesday and runs through Sunday.