Scott Stanford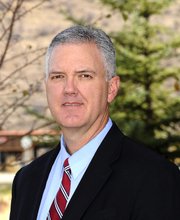 Scott Stanford is general manager of the Steamboat Pilot & Today. Call him at 970-871-4202 or email
sstanford@SteamboatToday.com
If Limon is the measuring stick in Colorado small-school football, Hayden is halfway there.
Half the town of 1,600 was at Saturday's quarterfinal playoff game, and the crowd saw the Tigers play with the class of Class 1A for half the game.
Limon led just 7-0 after the first 24 minutes, and Hayden fans were starting to believe the unbelievable could happen. The Tigers had turned away the vaunted Badgers offense on four of five possessions - including a stunning stop on fourth-and-goal at the Hayden 1. Hayden was a turnover and a big play or two from ending Limon's 49-game winning streak.
But there would be no fairytale ending. Limon's Andy Love, who finished with 149 yards on 16 carries, scored on a 53-yard run on the first play from scrimmage of the second half, putting Limon up, 14-0. The two-score differential might as well have been 100. The Tigers offense managed just 52 yards and had only one play of more than 10 yards the rest of the way. Hayden was never again a threat to stop Limon from winning its state-record 50th consecutive game.
"(Love's run) kind of took the wind out of our sails," Hayden coach Shawn Baumgartner said.
But while the season has ended, Hayden's reputation as a football power is just beginning.
If you don't think so, just ask someone who knows a thing or two about building a winning program in a small town - Limon coach Mike O'Dwyer.
"Hayden is a good program that keeps getting better," O'Dwyer said. "They're getting some continuity in their coaching staff. What it takes (to build a program like Limon's) is consistency in your coaching and community support. I think they have both going on in Hayden.
"Coach Baumgartner does a good job. They are not far away."
Baumgartner is a little more reticent.
"We're a long ways away from a Limon kind of thing," he said Saturday.
But the evidence indicates that, at a minimum, Hayden is on the rise.
Baumgartner is in his fourth year as Hayden's head coach. After going 2-8 in his first year at the helm, Hayden is 26-6 since. The Tigers have been to the playoffs each of the past three years.
Write this down - Hayden will be back to the playoffs in 2007 and 2008.
Limon went 5-5 in 2002, the last time they lost. The Badger seniors were eighth-graders then. Those seniors have had success every time they have played a varsity game. They expect to win, and that confidence showed Saturday in players like Love and quarterback Travis Sandersfeld. Sandersfeld, who didn't complete a pass in the first half, was a cool 4 of 6 for 83 yards and a touchdown in the second.
Hayden should have such confidence next year.
Hayden has but four seniors on its roster. Fullback and linebacker Brandon Ford is going to be tough to replace. So are linebacker Dave Gullett and lineman Cody Jones. But there are a bunch of starters returning to a team that went 9-2 in what was supposed to be a rebuilding year.
Coy Letlow, who rushed for more than 1,600 yards this season, is just a sophomore. So are quarterback Mitchel Doolin and defensive back Billy Zehner. Running back Russell Waugh is a junior, as is tight end and defensive end Aaron Haskins.
This is a team of players who have had nothing but success on the football field. This is a team with a young but experienced coach. This is a team with community support that's about twice the size of its stadium.
This is a team that could be more than halfway to a Limon kind of thing.