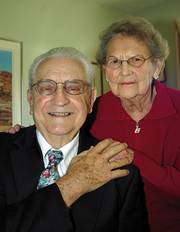 Lloyd G. Lockhart and Annabeth Light Lockhart of Steamboat Springs, Colo., will celebrate their 65th wedding anniversary on Nov. 20. They both were born in Routt County and, except for time during the war and college years, have lived in Steamboat Springs. Their lives have been actively spent in community affairs as well as owning F.M. Light & Sons. Lloyd, as president of the Steamboat Springs Winter Sports Club, chaired the 50th Winter Carnival, was instrumental in founding the Steamboat Rotary Club chapter, was an active member of Kiwanis Club for many years and has been president of the Steamboat Springs Chamber of Commerce as well as commander of the American Legion. Annabeth, as a member of the Routt County Republicans, was an elected delegate to the National Convention to nominate Ronald Reagan in 1980. She is a 50-year member of Beta Sigma Phi.
Sons, Ty and Del, with wives Betty and Nina share this special celebration along with grandchildren, Brandon, Lindsay, Daniel, Bethany and Andrew Roise, Dawson, Susanna, James, Sarah, and Jonathan as well as great-grandson, Jeremiah.
Their family congratulates them for their dedication to their families, friends and the community. Their address is 830 Lincoln, Steamboat Springs, 80487.