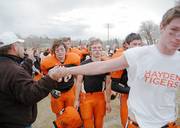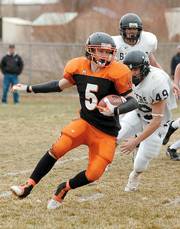 Game statistics
Hayden Limon
9 First Downs 9
45-108 Rushes-Yards 34-213
2-6-1 Comp-Att-Int 4-12-0
19 Yards Passing 83
108 Total Yards 296
7-36 Punts-Avg. 3-45.6
2-1 Fumbles-lost 2-1
0-0 Penalties-Yards 6-55
SCORE BY QUARTERS
Limon 00-07-14-00-21
Hayden 00-00-00-00-0
SCORING SUMMARY
First Quarter
None
Second Quarter
L 7:27, Randy Nelson 3 run. (Andy Love kick).
Third Quarter
L 11:44, Love 53 run. (Love kick).
L 3:56, Kirk Pottorff 39 pass from Travis Sandersfeld. (Love kick).
Fourth Quarter
None
INDIVIDUAL STATISTICS
Rushing
H: Coy Letlow 25-67; Brandon Ford 7-22; Russell Waugh 6-10; Mitchel Doolin 7-9.
L: Love 16-149, 1 TD; Isaac Ashcraft 5-40; Nelson, 6-20, 1 TD; Sandersfeld 6-2; David Lukow 1-2.
Passing
H: Doolin 2-6-1, 19 yards.
L: Sandersfeld 4-12-0, 83 yards, 1 TD.
Receiving
H: Waugh 1-7; Aaron Haskins 1-12.
L: Joe Stone 3-44; Pottorff 1-39, 1 TD.
Hayden — Hayden's 21-0 loss to Limon on Saturday afternoon was not as black and white as the final score indicated.
"They had three big plays," Hayden coach Shawn Baumgartner said of the game that was 7-0 at halftime. "We battled and played tough."
Not that the Tigers didn't see a lot of black and white Badgers jerseys. Limon held Hayden to its lowest rushing total of the year, a mere 108 yards. That's half of what its next-closest opponent, Dolores, had managed.
Although it was the hardest-fought yards the Hayden running attack of Coy Letlow, Brandon Ford and Russell Waugh had seen all season, the Hayden defense made plays to keep Hayden in the game.
"We wanted to go out and hit them in the mouth on every play," senior linebacker Dave Gullett said.
After Hayden's opening drive was derailed by a Waugh fumble in Limon territory, the Hayden defense stood strong. Facing a Limon first down on Hayden's 3-yard line, Waugh caught Limon running back Andy Love cutting around the left side. After Hayden stopped Love two more times, Jordan Williams tackled Limon's Randy Nelson on fourth-and-one from Hayden's 1.
"We got some momentum there," Ford said.
Hayden pushed out of its own end zone and punted to get a little breathing room.
Gullett and Zathan Bark tackled Love for a loss on the ensuing first down, and Ford nearly picked off Limon quarterback Travis Sandersfeld on his first pass attempt. Unfortunately, the Hayden offense struggled to move the chains.
The Tigers caught a break when a Limon touchdown run was called back on a holding penalty, but ran out of luck in the beginning of the second quarter. A 25-yard rush by Limon's Isaac Ashcraft set up a quick Nelson touchdown run.
Hayden answered with a nine-play, five-minute drive, but couldn't move deep into Limon territory before the half ended.
The Badgers opened the second half with one of the game-defining big plays. On the first play from scrimmage, Love broke open a 52-yard touchdown run to the outside past Hayden's defense.
Four minutes later, Ford recovered a Love fumble to give Hayden its best scoring opportunity of the game. Hayden got as close as the Badgers' 10-yard line, but on third and four, quarterback Mitchel Doolin was dropped for a four-yard loss. Then, on fourth down, Coy Letlow could only manage a yard and Hayden turned the ball over to Limon.
Limon responded by marching 86 yards in five plays and 2:30. Sandersfeld, who didn't complete any of his five passes in the first half, suddenly got hot. He hit Joe Stone for a 9-yard completion and then found Kirk Pottorff for a 39-yard touchdown pass to put Limon up, 21-0.
Hayden got the ball three more times, but the drives all stalled without reaching midfield. One ended in an interception and the other two in punts.
The game ended the football careers of four Hayden seniors. It was "the last time I ever pad up," Gullett said.
Both he and Ford believed the team's final game against the state's top-ranked team proved how far Hayden had come this season. The Tigers, with mostly underclassmen on the field, finished 9-2.
Limon coach Mike O'Dwyer said Hayden was "a well-coached and disciplined team."
"This will be a team to reckon with for the next couple of years," O'Dwyer said.
Limon will face No. 5 Lyons in a semifinal game on Saturday.