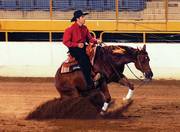 Bryan Luark can see the belt buckle now.
"If you win, you get a big belt buckle," he said. "That's what I'm looking forward to."
Luark, a Soroco High School senior, will compete with his quarter horse, 'Boomen James Foley,' in the National Reining Horse Association's Adequan North American Affiliate Championships in December. The championship will be held in Oklahoma City.
Luark qualified for the nat-ional championships after he placed second during October's Mountain Regional Affiliate Finals in Denver.
During regional finals, Luark competed against youth ages 14 to 18 from Colorado, North Dakota, South Dakota, Idaho, Wyoming and Utah. Luark was one of the four riders who placed high enough to compete at nationals.
After spending most of the summer months preparing Boomer for the October competitions, Luark said he is prepared to continue to do so until he heads to Oklahoma.
"I ride my horses every night, but I've always done that," he said.
Luark has worked with Boomer for the past five years and is positive Boomer knows what is happening. "He understands what's going on," he said.
Though competing on a national level is exciting, it can also be daunting, he said.
"It's a little nerve racking because there will be like 1,000 people from all over there" he said.
Luark started reining as a 4-H member and because both his parents were interested in it.
Competing in December may be bittersweet because of a tragic horse accident that killed his trainer, Arizona resident Sherri Gilkerson, in October.
"Am I riding in her memory? I'd say so," he said. "She will be greatly missed, and her passion for horses, training and life will always be with me."
Regardless of what happens at nationals, Luark said he will always work with horses and has chosen to pursue his love for horses in the fall.
"I got accepted to (Colorado State University). I'm going to study to be a vet," he said.
Though he won't be able to house Boomer at his dorm room in Fort Collins, Luark is hopeful he will to continue to ride.
"I guess it depends on how school goes. If it turns out I can do both, I will. If not, I'll have to drop showing horses," he said.
Luark lives in McCoy, but attends Soroco High School. He also is involved in National Honor Society, 4-H and Future Business Leaders of America.
- To reach Alexis DeLaCruz, call 871-4234 or e-mail adelacruz@steamboatpilot.com