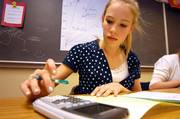 Steamboat Springs — The certificate honoring Steamboat Springs Middle School's excellence in mathematics is small and barely visible in Principal Tim Bishop's office.
But he knows it's there.
In fact, Bishop has the wording on the framed piece of paper memorized. The certificate from the Colorado Department of Education congratulates the middle school for being a "2005 Gain-maker School," making exceptional improvements in student achievement in math from 2003 to 2005.
In those three years, middle school students steadily increased their math CSAP scores.
In general, math scores are increasing in the county's public schools when comparing 2006 CSAP math scores with scores from the past several years.
The Colorado Department of Education has been vocal about wanting math scores to improve statewide, and the Steamboat Springs, Hayden and South Routt School Districts are listening.
"There is definitely a state directive, but there is no mandate," Hayden Superintendent Mike Luppes said. "Overall, it's an area where schools, in general, aren't satisfied with their math scores."
Middle school does well
But few administrators in the state are likely more pleased than Bishop.
On the 2006 CSAP math tests given in the spring, the middle school scored its highest marks in recent years. Nearly 77 percent of the sixth-, seventh- and eighth-graders in the district tested proficient-to-advanced in math.
An impressive 44 percent of middle school students tested at the advanced level, which is more than double the state average of 18 percent.
"We study the heck out of those things and have it down to what the state expects," Bishop said of CSAP test requirements and expectations. "Every single one of those (middle school) math teachers is a competitor and takes pride in comparing how their kids compared to the state."
Bishop is waiting to hear whether the middle school will receive another "Gain-maker School" award.
Bishop also is waiting to hear whether the middle school, which was in the top 3 percent in the entire state in terms of CSAP math scores last year, remains in the elite crowd.
"I think the students know we have high expectations and take pride in what we do," Bishop said.
Ben Barbier agrees. The eig-hth-grade math teacher is pleased with the advancements of the district's middle school students in math. Several years ago, a quarter of Steamboat's eighth-graders were advanced in math. Now, Barbier and Val Gary teach advanced math - a combination of algebra and geometry - to half the eighth graders.
"The 'algeo' classes take pride in not only having 'As,' but having the highest 'As,'" Barbier said.
On Tuesday, approximately 50 middle school students will take an America Math Club test. Usually, the district orders 10 tests.
The America Math Club test lasts 40 minutes and contains 25 multiple-choice questions. It is used to measure math aptitude. Students receive a state and national ranking.
A county-wide focus
Math has been a focus in Steamboat's other public schools, as well as public schools in Hayden and South Routt.
In general, the CSAP scores reflect that.
Math CSAP scores are 10 to 18 percentage points higher than the state average at Steamboat's two elementary schools. At the secondary level, which includes the middle school, math CSAP scores improved in four of fives grades.
The CSAPs are given to students in grades three through 10.
In Hayden, math scores improved in five of the eight grades tested when compared to 2005 scores.
In 2006, 58 percent of Hayden's students tested proficient-to-advanced in math, which was nearly five percentage points more than the state average.
Luppes said math scores are not "where we want them yet," but he is pleased with the progress.
"For us, at the elementary level, it has been devoting more time and emphasis to math," Luppes said. "We've flat out devoted more time to math instruction. It's harder for more time at the high school. It's hard to suddenly add rigor to your math curriculum for sophomores. That's something that has to be built up through the grade levels."
In South Routt, math scores climbed in four of eight grades tested, and it remained constant in another.
"We were very, very pleased with our math improvements," South Routt Superintendent Kelly Reed said in August. "We stressed that. We've gone in and brought some math coaches in to really help us teach math in a different way."
A model for other schools
Steamboat Springs Middle School has been used as an example school. Multiple districts have contacted Bishop wanting some direction on math instruction, which is the ultimate compliment, Bishop said.
Still, he added, the consistency in middle school math staff has played an integral role in the improvements. The teachers know each other, know the students and know the curriculum.
"It's huge," Bishop said. "We have such an articulated curriculum."
All the middle school math teachers, with the exception of Gary, have been with the district for four years or more. Gary was a teacher at Christian Heritage School before moving to the middle school, Bishop said.
The consistency in the CSAP tests also has helped improve scores, Bishop said. The district doesn't teach to the CSAP tests, but Steamboat's math teachers pay attention to what the state accountability tests are asking students.
People who grew up taking multiple-choice standardized tests might be surprised to see a CSAP math test.
Students are required not only to provide the correct answer, but also to diagram how they arrived at that answer and explain how they solved the problem, which involves more reading and writing than most standardized tests.
When applicable, points are given based on the answer, the computation and the description.
The CSAPs are challenging, Bishop said.
"They do a great job measuring state standards," he added. "Every student has to prove they know how to do it."
- To reach Melinda Mawdsley call 871-4208 or e-mail mmawdsley@steamboatpilot.com